'

Open wide'
Annual dental screenings take place at
LMS
For about the 10th consecutive year, Dr. Jack Stewart loaded up a box of tongue depressors, latex gloves, a surgical mask and flashlight and headed to Lansing Middle School to give his annual dental screenings to sixth-graders in the Lansing district.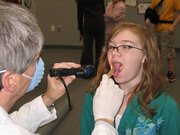 "We're looking for tooth decay and orthodontia needs," said Stewart, a Lansing dentist who donates his time and spent part of Wednesday morning at the middle school.
School nurse Sue Niederhofer said the state recommended dental screenings and that the school district has determined it would conduct them annually on sixth-graders. Parents can decide whether to "opt out" their children from the exams, which take only a matter of seconds.
This year, about 120 of the 182 sixth-graders participated.
"Good morning," Stewart said to each of the sixth-graders as they sat in a folding chair in front of him and automatically opened their mouths. "OK, now close down."
The refrain continued with each child throughout the 45 minutes it took to complete the screenings.
Niederhofer said she would send a report to state officials about the screenings in general.
She said overall the students passed the screenings with flying colors.
"Basically, our kids are well cared for dentally," she said.
The students, some of whom didn't know what to expect, seemed relieved when their screenings were finished.
"That was easy," said one. Added another, "Wow."