Three-mendous!
Four-for-four explosion from beyond the arc triggers
LHS

boys' come-from-behind victory
Two general rules of thumb when entering the postseason are that you want to be playing with confidence and you want momentum on your side.
It's fair to say the Lansing High boys basketball team fits both of those criteria following its 50-43 come-from-behind victory over Bonner Springs on Thursday night at Johnsmeyer Gymnasium.
Lansing struggled for three quarters against Bonner Springs and trailed by 38-26 entering the final quarter. Then the defense stepped up and clamped down. LHS forced five turnovers down the stretch and held BSHS to just five points the rest of the way. In the meantime, the Lions' depth flexed its muscle on the offensive end as juniors Bobby Hauver and Chris Hill - neither of which is a perimeter shooting threat - swished three-pointers. So did starting guards Clayton Hall and Curtis Beall. Lansing's four-for-four performance from beyond the arc in the final quarter, as well as an old-fashioned three-point play and a free throw by senior Jeff Jackson, took the Lions from down 11 to up 42-40 with 2:19 left.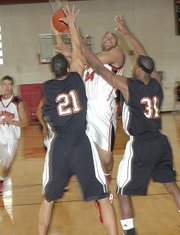 The momentum shift was capped as Hill sank three free throws, Jackson scored on a tip-in, and Beall and Hauver knocked down charities to wrap up the victory. In all, Lansing's knockout punch was a 24-5 run.
The victory sends Lansing into next week's Class 5A substate tournament with a two-game winning streak and lots of positive vibes.
"It's a great springboard. It was a total team effort, and that's what we want," first-year LHS coach Rod Briggs said. "We preach team. We don't care who scores the points as long as we're scoring them."
Jackson started strong for Lansing, but he was the only one. The senior scored eight of the Lions' first 10 points. Beall also buried a three-pointer in the first quarter, but the Braves had their way at the other end. Senior L.T. Lee was active inside and scored on a series of over-the-top layups the pushed the Braves to a 14-13 lead.
Lee scored seven more points in the second quarter while the Lansing had numerous empty possessions. LHS scored just four points in the quarter and trailed 28-17 at halftime.
"At halftime we were all down, and coach kept professing that we need to come out on defense," Hauver said. "That's what we did. We came out, we stepped up our defense, got turnovers, came down the court and played great offense. We ran our offense and got open shots, and we took 'em."
Bonner extended its lead to 15 points at 32-17 early in the third quarter, but Lansing gradually inched back into the game on buckets by Will Johnson and Hall before its furious fourth-quarter comeback.
Bonner led by 12 entering the fourth quarter, but a free throw by Jackson and a three-pointer by Hauver cut the lead to eight. A lay-in by Chris Callahan extended the Braves' lead to 40-30 with six minutes left, but those were the last points they'd score for the next 5 1/2 minutes.
The Lions contested every shot on defense and stopped allowing second-chance opportunities. They also were patient on offense, slowed the tempo and capitalized on open looks. A steal by Kevin Johnson led to a break that was capped by Hill's three-pointer. That brought LHS within 40-36 with 4:45 left and brought the crowd to its feet. It was a rare long-range attempt by Hill, but like Hauver's shot, it swished through the net.
"We practice every day shooting three's," Hill said. "Me and Bobby both know we can hit 'em when we have to, so we stepped up and it was just like practice."
Lansing's next two possessions also resulted in three-pointers as Hall and Beall connected from beyond the arc. Beall's put LHS on top, 42-40. The Lions never trailed again.
The student section greeted the Lions at midcourt after the game to offer its congratulations. The crowd presence didn't go unnoticed by Briggs.
"Our student body two games in a row have done a great job supporting us, and I think as we're more successful over the years hopefully that even grows even more where more kids see it as the thing to do," he said. "I think having the Powder Puff (girls' charity flag football game) after the game might have helped a little bit too, but hopefully the students realize that these guys work really hard and we like them to come to our game and support us. I think they did a good job and we have some really good students that come to our games."
Jackson led LHS with 14 points, Beall had 11 and Hauver and Hill added six apiece. Lee led Bonner with 15 points.
The victory improved Lansing's record to 8-12 and locked up the No. 4-seed in the substate tournament. LHS will play host to a first-round game at 7 p.m. Thursday. In all likelihood the opponent will be Bonner Springs. Official brackets will be announced Saturday.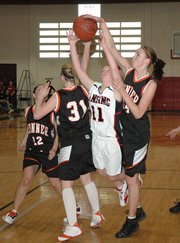 LANSING GIRLS 44, BONNER SPRINGS 43
Historically, Katie Nietzke has reserved her best performances for games against Bonner Springs.
The Lansing High junior guard was dynamite in the first half against Bonner. Then her teammates took care of the rest during the final 16 minutes as the Lions pulled out a 44-43 victory at Johnsmeyer Gymnasium.
"We got good contributions from different people again," LHS coach Keith Andrews said. "We're balancing out. We've just got to keep going."
Nietzke did her part early. She scored eight of Lansing's first 10 points as she attacked the basket for jumpers in the lane. She also knocked down free throws. Bonner also was on fire early, though. The Bravettes knocked down five of their first 10 shots and led 13-10 after the first quarter.
Nietzke remained the aggressor during the second quarter as she scored on a baseline floater and four free throws. Brittney Lang added a layup and two free throws in the quarter. Alexis Ellis, Katelyn Griffen and Chanel Johnson also scored as LHS took a 26-24 lead into halftime.
Ironically, the perimeter-oriented Lions scored all of their field goals in the first half from within 10 feet. They also were eight-for-eight from the free throw line.
"When you're struggling with the outside shot, you want to take the ball to the basket and get (to the free throw line)," Andrews said, praising his guards.
Amanda Darrow and Elizabeth Cristiano knocked down baskets early in the third quarter as LHS extended its lead to 30-24. Just as the Lions looked like they were taking control, however, they went cold from the field. They didn't score during the final seven minutes of the quarter as the Bravettes rallied and tied the game at 30-all.
Freshman Amy Briggs ended Lansing's drought on the first possession of the fourth quarter. After a Nietzke miss, Johnson grabbed an offensive rebound and kicked out to Briggs for a three-pointer. She buried it, and LHS took a 33-30 lead. Bonner answered with a pair of free throws, but Lansing responded with a Johnson layup.
A reverse layup by Kelsey Stanbrough and a pair of free throws by Christine Delladio gave Bonner the lead, but a Nietzke free throw tied the game at 36-all. A layup and free throw by Delladio gave the Bravettes a three-point advantage, but Lang answered with three free throws and brought the game even again.
Stanbrough knocked down a floater in the lane that gave the Bravettes a 41-39 lead with 1:40 to go, but Lang drained a three-pointer a minute later that put the Lions on top for good. Lang then extended the lead with a pair of free throws. Stanbrough scored on an eight-foot jumper with four seconds left to cut the LHS lead to one, but it was too little too late.
Nietzke led Lansing with 15 points, Lang had 12 and Johnson added four. Six other Lions also scored. In addition, Lang had five rebounds and Christine Cordes grabbed four. Delladio led the Bravettes with 14 points.
Lansing ends the regular season with a 9-11 record. It now must wait until Saturday to find out when, where, and who it will play in the first round of the Class 5A substate tournament next week. Bonner is in the same substate. The Bravettes are 9-10, and they play the Basehor Bobcats on Friday in their regular-season finale.
Lansing, Bonner, Mill Valley and Shawnee Heights all are in a battle for the third, fourth, fifth and sixth spots in the bracket. Lansing swept the season series with Bonner and owns the head-to-head tiebreaker.
"I'm just glad we did our part," Andrews said. "We did what we can do. Now we'll just sit back and watch (the other games)."