Ward 2 field set after primary
Pawlowski, Anaya to square off
Incumbent Andi Pawlowski will square off against challenger David Anaya in the April 3 general election for the Ward 2 position on the Lansing City Council.
Ward 2 voters in Tuesday's primary election - the only primary for Lansing city and school races this year - advanced Pawlowski and Anaya to the general election.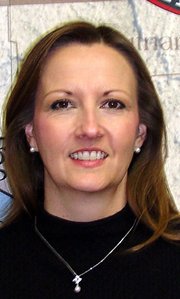 Pawlowski, who has served on the council since 2001, received 119 votes. Anaya, a developer and engineer who is chief of design in the Directorate of Installation Support at Fort Leavenworth, received 44 votes. Mike Howell, commander of the Lansing Veterans of Foreign Wars post, received 31 votes and will not advance to the April ballot.
Though Pawlowski easily outdistanced the field, she thanked her supporters and said she looked forward to the April election.
"I'm pleased with the results and thankful all those people came out and voted for me," she said. "I believe I've done a good job and deserve to be re-elected, and I hope that's what Tuesday's vote meant."
Anaya was reached Wednesday but was in a meeting in his job Fort Leavenworth and could not comment.
Howell congratulated both Pawlowski and Anaya and said the outcome of the primary wouldn't alter his outlook. He said he would rather run for office and lose than continue to sit on the sidelines and complain about what's happening in the community. He said the 2007 campaign would not be his last.
" It's not going to change the way I feel or stop me from being at every city council meeting or being involved in the community," Howell said. "Two years from now, I plan on running again."
Though Tuesday there was just one contest, five weeks from now the scenario will change.
In addition to the Ward 2 race between Pawlowski and Anaya, there will be a race in Ward 4 where Tom Smith, a retired Army officer, will face incumbent Harland Russell.
Other incumbent council members Dee Hininger, Ward 1, and Janette Labbee-Holdeman, Ward 3, will be on the April 3 ballot but have no opposition.
Seven candidates will vie for four openings on the Lansing School Board, including incumbents Shelly Gowdy and Dr. Richard Whitlow. Others seeking a spot on the board are Brian Duncan, John Gable, Rich Hauver, Richard O'Donnell and Joseph Walden. Incumbents Craig Gephart and Brian Bode decided against seeking re-election.