4-H near to caregiver's heart
Lori Redford has a farm, e-i-e-i-o.
And on that farm there are some goats - and pigs, sheep, cows, a horse and now, a litter of Labrador retriever puppies.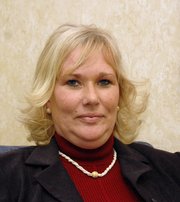 Redford wasn't raised on a farm, but she has always loved animals and made it a point to give her daughters a chance to do something she herself always wanted to do: show animals through 4-H.
Redford's daughters quickly picked up their mother's love of animals, but they just couldn't figure out what they wanted to raise.
"When you get involved in 4-H, you find an animal you want to show," Redford said. "My girls just wanted to raise everything."
With about a dozen large animals to care for at home - not counting the new Labradors - Redford said it's not always easy helping her girls to keep up with the nurturing and grooming it takes to raise a champion animal.
"The hardest part is finding enough time for them," she said.
But Redford is no stranger to nurturing. In fact, she's made a career of it working with senior citizens. Starting at the Veterans Administration, Redford eventually moved on to work for a home health agency before coming to work for Twin Oaks Independent Living about a decade ago.
Redford said hearing about the lives of the seniors she works with was a great job perk.
"I just love seniors. You learn something every day. And their stories!" Redford said.
And after more than 20 years of caring for seniors, Redford couldn't imagine working in any other field.
"Basically, I've spent my whole life working with seniors. I can't see it any other way."
Name: Lori Redford
Address: 32959 167th St., Leavenworth County
Occupation: director, Twin Oaks Independent Living
Graduate of: Pleasant Ridge
Family: Malorie, 18, Taylor, 14, Keeley, 9, daughters.
How long have you lived in Lansing and what brought you here? Leavenworth native.
What do you like most about Lansing? "The friendly people. And I like how it's expanding."
What do you do for fun? "I'm very involved in 4-H, I like to be outdoors, shopping, just being with my girls."
What would surprise people about you? "I love to belly dance."
What's the best advice you've ever received? "A lady here told me, 'You should always give a smile and a hug to someone each day, because you never know who isn't getting a smile and a hug.'"
What organizations or clubs do you belong to? 4-H; Ladies Chamber of Commerce; Senior Heritage Center board member.