'

Bug' me
Program seeks to raise grades at Lansing Elementary
Classrooms in the Sallie Zoll School soon will be abuzz with BUG, a program that gives third-graders another reason to strive for good grades.
Bring Up Grades is designed to grant recognition and incentives to students who raise their grades to an acceptable range and maintain or continue to raise them from one quarter to the next, said Tim Newton, principal of Lansing Elementary School.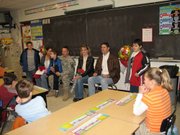 Lansing Kiwanis Club assists with the project by soliciting donations from area businesses to fund the program, which LES will launch this month with a round of prizes and achievement certificates.
Newton said BUG would emphasize the importance of good work ethic and study habits at an early age, while involving area businesses and civic organizations in the process.
"One of the things we're trying to do is involve the community more in the schools," he said. "Everyone is a stakeholder in the schools. The community relies on an educated population for its work force."
And because many business owners and their employees have children in the Lansing schools, Newton said, they have another reason to care about educational success.
Newton said three categories of students would be rewarded each quarter after report cards are issued.
Students who earn all A's will receive an "I Love BUGs" T-shirt, a pencil, a recognition certificate and a bumper sticker. Students who earn all A's and B's will be rewarded with a pencil, a recognition certificate and a bumper sticker. And students who raise their grades from the previous quarter in three of six subjects will earn a pencil and a recognition certificate.
In addition, students who achieve BUG honors also will be acknowledged on the school's bulletin board and during LES morning announcements.
Newton said the LES Site Council chose to start the program with the third grade because it is the first year Lansing students receive letter grades on their report cards.
Eventually the group would like to expand the program to the fourth and fifth grades. Newton, who also is a member of the Kiwanis, said he was researching similar programs for students in kindergarten through second grade.
He said initial costs for prizes and recognition certificates would come in around $1,200, including a $500 donation by the Lansing PTA for T-shirts.
Newton sent a letter to parents explaining the program and visited classrooms to talk with students about BUG. His goal is that all 160 third-graders will make the BUG benchmark during the school year.
"All the third-grade teachers are on board. I think the key thing is everyone can raise their grades," Newton said, adding that he doesn't expect all students to receive all A's or all B's.
The point of the program, Newton said, is to motivate students to do their best.
"Everyone is capable of raising their grades," he said.