Junior repeats in T-shirt contest
LHS

student uses computer to create winning design
Randy Craig's creativity has become a staple in the stands at Lansing High School basketball games.
Craig, a junior at LHS, has won the Lansing Booster Club's LHS basketball T-shirt design contest two years in a row.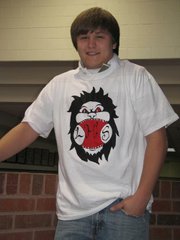 Winning the contest netted Craig $50 each year, as well as the notoriety that comes from hundreds of his classmates wearing the T-shirts he designed.
"It's pretty cool : because you see everyone wearing your shirts and you feel kind of famous," Craig said.
LHS students voted on this year's winning design in November from a pool of eight entries.
Robyn Dorf, LHS vice president of the club, said the students chose a bold design, which features a Lansing Lion with a basketball in its mouth.
"It's a fierce lion. It does have a lot of teeth. It's a ferocious-looking lion, that's for sure," she said.
Dorf said this was the fourth year for the contest.
"We started it because there was low turnout at the high school basketball games and we wanted to promote more spirit," she said, adding that club members have been satisfied with the results.
On Dec.15, the club distributed 150 free T-shirts to eager LHS students who attended the boys and girls basketball games against Tonganoxie.
Ceal's Designs and Signs printed the shirts.
Craig said he used the Microsoft computer art program Paint to draw his winning entries. Since the latest contest, Craig has purchased Adobe Photoshop, which he will use to explore more creative outlets.
He said he might even delve into Web site design before he heads off to college in 2008. He's interested in attending the University of Kansas, Johnson County Community College or an art school.
Craig, a member of Art Club, said he's working hard in his classes at LHS to develop an art portfolio.
"That's probably my favorite thing," he said. "I kind of want to be an architect. I'd like to do something with cars or houses."
And he's not ruling out the possibility of designing clothes on a more regular basis. He said he might be interested in creating shirts and jeans like those teens buy at The Buckle.
"I like that style," Craig said.