From Lion to Tiger, Demarest took a wild ride to the top
2003 Lansing High graduate loves life on the mat at Missouri
It was supposed to be the end of Vince Demarest's wrestling career, that Saturday afternoon in late February 2003 when the Lansing High senior stepped off the medal stand at the Class 4A state wrestling tournament.
A three-time state qualifier, Demarest had placed sixth in the 171-pound weight class and was ready to trade in his wrestling singlet for hockey skates the next year at the University of Wyoming.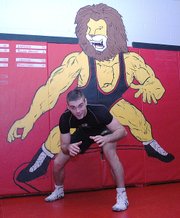 At the time Demarest never imagined he would one day be a college wrestler for the Missouri Tigers, the No. 1-ranked team in NCAA Division I.
"Three years ago if you'd said I'd be on the No. 1-ranked wrestling team in the nation, I'd have said 'Get out of here. You don't know what you're talking about,'" Demarest said with a laugh.
But that's Demarest's reality now. It has been a wild journey, but he's competing for the best wrestling team in America and loving every minute of it.
SKATER BOY
Standing in the hallway just outside the wrestling room at Lansing High, Vince Demarest sports a black dri-fit shirt with the words "Tiger Style" printed on the front.
Although Demarest proudly wears his wrestling practice attire from the University of Missouri, he admits his first love was for a different sport: ice hockey.
"Wrestling was my sport I did hard in the winter," Demarest said, "but I've been a hockey player most of my life."
Demarest first played hockey at the age of nine. He joined a team in Kansas City when his father was stationed at Fort Leavenworth. Eventually the family moved to Loveland, Colo., and more opportunities to play were available in the colder climate. The family continually moved around the country throughout Demarest's childhood, but he always found a place to skate.
"I played some AA hockey in northern Illinois and Colorado," he said. "I've skated forever."
When the family moved back to Lansing for Demarest's sophomore year, he found another place to play hockey. He also joined the wrestling team.
Demarest qualified for the Class 4A state wrestling tournament as a sophomore and junior but didn't advance to the medal rounds. As a senior he finally made it to the medal stand.
"He ended up sixth and earned every bit of it," LHS wrestling coach Ron Averill said, noting that two of Demarest's classmates - Marcus Waters and Troy Madill - also medaled that year.
Although it was evident Demarest was developing into a dominant wrestler, his heart remained on the ice. After graduating from LHS he enrolled at the University of Wyoming and joined the club hockey team. During his freshman year he helped the Cowboys advance to the American Collegiate Hockey Association Division III national tournament.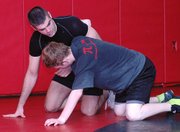 MOVE TO MISSOURI
Although Demarest enjoyed his time at Wyoming, he decided one year was enough. He looked at his future and felt his heartstrings tugging him closer to home. His family was in Lansing, his girlfriend was in town and he decided he wanted to become a sports broadcaster. If broadcasting was to be in his future, Missouri was a natural choice.
Demarest joined the Army ROTC program at MU and eventually switched majors from journalism to geography.
"I want to be an infantry officer when I first get out, and geography really focuses on your landscape, knowing the land surroundings and your GPS and GIS systems and all of that stuff," he said. "It just made sense to focus on geography."
Demarest found a challenging academic environment at Missouri that inspired him, but athletics were another matter. Hockey wasn't a big deal at Mizzou. Wrestling was. And Demarest just happened to know the right people.
"I'd befriended some wrestlers and they got me to come in and start rolling around with them," he said with a laugh. "They convinced me to try out for the team, so I did. I guess the coach saw something he liked, so he invited me to join the team."
ONE TOUGH TIGER
It didn't take long for Demarest to feel at home on the Missouri wrestling team. He lives with Ben Askren, a two-time NCAA national champion at 174 pounds and the 2006 Dan Hodge Trophy winner.
He just dominates everybody," Demarest raved about his roommate. "He pinned the No. 2 guy in the nation in 30 seconds : twice, back-to-back. He's just phenomenal.
"I just somehow bumped my head, and then I'm his roommate. And I'm good friends with his brother, who's also ranked No. 1 (at 197 pounds), so those are my drill partners, two of the best guys in the nation. I went from just kind of showing up at Missouri to being roommates with a two-time national champion on the No. 1-ranked Missouri wrestling team. I think I was just really blessed to be put in that situation."
Wrestling at Missouri has had its perks, but every day isn't rosy. Demarest posted an 0-2 record at his only tournament as a sophomore. His season was cut short shortly thereafter when he blew out his left knee in practice. Two weeks after returning to the mat he fractured a rib.
Demarest insists the wounds made him stronger. He says they gave him more determination to do better this year.
"I've still got some unfinished business," he said. "I don't want to join a team just so I can say, 'Oh, I'm on a team.' I want to contribute."
His greatest contributions to the Tigers this year are in the practice room where he has daily battles with the Askren brothers to help them in their pursuit of national titles. It's his way of chipping in as the Tigers pursue a NCAA title.
Whether he's a go-to guy or a role player at Missouri, Demarest said he has been most impressed by his teammates' all-around commitment to being the best.
"Everyone's going to bed on time, not because they're antisocial, but because they're so dedicated," he said. "Everyone's waking up early. Everyone's going tough. Everyone's breaking through walls during practice. Everyone's coming in for extra drills. Everyone's trying to eat right. Everyone's got a real good sense of humor, so it keeps it light, but everyone's really focused. It's real fun to be on that ride right now, and I'm just blessed to be on that kind of team."
AN INSPIRATION
Demarest spent part of his winter break at LHS assisting Averill and his young crop of wrestlers. His presence was felt from the moment he entered the room.
"It was really awesome having him there and having him be from one of the best schools in America for wrestling," LHS freshman Jacob Hansen said. "Everyone was really happy to see him because we hadn't seen him in a while, and having him there did a lot for everybody's confidence just to know they were noticed by somebody of his caliber."
Averill said Demarest's presence at practice is valuable in a number of ways, whether it be teaching new tricks or simply being proof that hard work pays off.
"He's just a great hard-working guy who's always looking for opportunities to better himself," Averill said. "He's an inspiration to a lot of these kids."