National runner-up's roster includes two
LHS

grads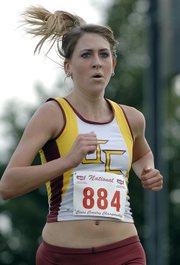 The Johnson County Community College women's cross country team raced to a second-place finish at the NJCAA Cross Country Championships on Nov. 4 in El Paso, Texas.
Two 2006 Lansing High graduates - Samantha Parr and Erin Eustice - were on the Cavaliers' roster this year. Neither runner raced at the national championship meet, however.
Parr, a 400-meter specialist at LHS who never ran cross country before attending college, was a mainstay in the Cavaliers' top seven all season before a foot injury cut her season short. The team's top seven competed at nationals. Her best race of the year was Sept. 8 at the Cavalier Cup when she placed 14th overall in the two-mile in 13:57. Parr's best 5K race was Sept. 23 at the Tabor Invitational when she placed 37th overall in 21:48.19.
Eustice competed in every regular-season meet and finished in the squad's top seven once. Her fastest 5K of the year also was at Tabor when she placed 48th in 22:18.56.