Ward 2 race likely
VFW

commander says he'll file for council seat
If Mike Howell follows through with his intentions, there'll be at least one contested race in this spring's City Council elections.
Howell, who retired from the Army in 1987, this week announced his intent to file for the Ward 2 seat. Andi Pawlowski, who filed for re-election last month, has held the seat since 2002.
"I have several reasons for making this decision to run at this time," Howell said in a news release issued Jan. 1, "the largest being that I feel that it is time that the fastest growing ward in the city needs someone on the council who will stand up and speak for the people who have elected them. I can promise one thing for certain, I will be 'The Choice for Your Voice,' and your voice will be heard whether it is the popular voice of the council or not."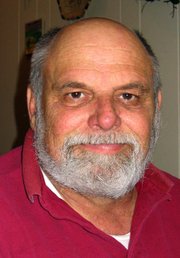 Howell is commander of Veterans of Foreign War Post 12003 and is the driving force behind the idea to build a Lansing Memorial to Veterans, which he hopes eventually will be built west of City Hall. He also is a member of the Leavenworth Democratic Party Central Committee.
Lansing needs to grow, but growth seems to be stagnating under the current council, Howell said.
"They have great plans, but everything is always placed on a waiting list, and few of them ever see fulfillment," he said.
Howell pointed to the planned Towne Center development as "a great example of this" with the new Lansing Community Park destined for the same fate.
He acknowledged the addition of new fast-food restaurants in Lansing but noted, "their volume of sales tax is not going to be enough to do what we need done."
He also said he favored a change in rules regarding the election of mayor. Those rules, set out in state statute, favor council member who don't have to seek re-election in years coinciding with a mayoral election.
"Currently, if you are on the non-election side of the council you can run for mayor and only have to give up your seat if you are elected. The other four members of the council do not have this advantage," he said.
Howell also said would back term limits for the council and mayor.
In May, with the council's approval, Mayor Kenneth Bernard appointed Howell to the Lansing Board of Zoning Appeals.
Ironically, Howell said he wanted to change the way appointments are made to boards and commissions. He said he would like the public to be informed of any such openings and for the council to solicit potential members.
"Who knows," he said, "we might find some people out here that are willing and able and have some great ideas that will help towards the common good of our city."
Four members of the eight-member council are up for election this spring: Dee Hininger in Ward 1, Pawlowski in Ward 2, Janette Labbee-Holdeman in Ward 3 and Harland Russell in Ward 4.
Pawlowski is the only candidate to have filed thus far, but Howell said he would file probably early next week. The filing deadline is noon Jan. 23.
If more than two candidates file in any ward, a primary election will be scheduled for Feb. 27. The general election is April 3.