Lansing earns split with Silver Lake, Santa Fe Trail
The Lansing High wrestling team opened its Thursday night home wrestling duals with a case of post-holiday blahs against Silver Lake, but by the end of the night LHS regrouped and earned a hard-fought come-from-behind victory against Santa Fe Trail.
Silver Lake earned a 48-23 victory over Lansing and a 51-26 victory over Santa Fe Trail. LHS defeated SFT, 45-36.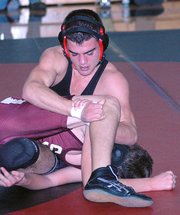 "We had a talk after the Silver Lake match," LHS coach Ron Averill said. "I didn't feel like we really wrestled up to our potential, and from what I saw we didn't look like we were in the condition that we should have been in. That just comes down to all of us having to be more dedicated to what we're doing and focused on the future because we can't be satisfied with the successes that we've had so far."
Silver Lake entered the dual with nine state-ranked wrestlers in Class 3-2-1A. Still, Lansing captured the first points of the night as junior 103-pounder Dennis Wood, ranked No. 2 in Class 5A, earned an 11-7 victory over freshman Tyler Roth, the No. 1-ranked wrestler in 3-2-1A.
"Honestly he wasn't looking real sharp today, and he knows that," Averill said of Wood. "But you've also got to kind of weigh that against the competition level that he beat, and when he comes back with a win against somebody like that you've still got to give him a pat on the back."
Silver Lake responded with five straight victories including forfeits at 112 and 130. Trailing 28-3, Lansing earned back-to-back victories as senior Kyle Buehler rolled to an 18-3 tech-fall at 140 pounds and junior Nick Flynn earned a 4-0 victory over Cody Meier, the No. 6-ranked wrestler in 3-2-1A. Silver Lake won the next three matches before Sean Gowdy claimed a forfeit victory at 189 and Brad Terron romped to a first-period pin at 215.
Photo Gallery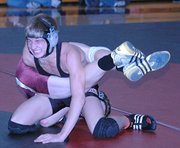 LHS wrestling Senior Night 2007
Lansing regrouped for its match against Trail and Wood got LHS started with a pin. SFT won the next five matches and erupted to a 30-6 lead, but that's when the Lions found their groove. Buehler, a defending state champion, started the rally by battling to a 5-0 victory over Josh Cauthon, the No. 1-ranked wrestler in Class 4A at 140 pounds. Flynn and senior 152-pounder Brad Zink followed with back-to-back pins. Sophomore Grant Hinckley accepted a forfeit victory at 160 and junior Mark Swope took a forfeit at 171. That put the Lions ahead 33-30.
Sparked by the momentum of five straight victories, the home crowd roared to life as sophomore Sean Gowdy took the mat for a 189-pound match against Chris Ewing. Gowdy dominated from the beginning and spent the final minute of the first period searching for a pin. He opened the second period on the attack as well and finally earned the pin with 1:09 left in the period.
"I had to wrestle smart and not give up anything," Gowdy said. "I wasn't expecting to wrestle varsity today, but I came in and I just had to do it. I just went out there and tried as hard as I could."
Gowdy's victory earned plenty of approval from his teammates and coaches. Said Averill: "It was pretty awesome watching Sean Gowdy get out there and more or less be the hero. We were expecting the pin from Brad (at 215), which meant 189 was the make it or break it."
Sure enough, Terron earned a first-period pin in his match to give LHS a 45-30 lead before Trail accepted a forfeit in the final match at 285 to end the dual.
Terron's appearance Thursday was his first of the season after missing the first month with a nagging leg injury he suffered during football season.
Terron said the overall performance was bittersweet for the Lions.
"We needed a win, and Santa Fe's been our rival for a long time," he said. "This is the dual we've had trouble with every year, and it feels good to beat them, but we've still got to beat Silver Lake. We'd have liked to have beat Silver Lake, but I guess we were out of it too long."
Silver Lake's focus and preparation entering the duals was obvious from the moment warm-ups began. Meanwhile, Averill admitted his squad wasn't nearly as sharp as it needed to be. The Lions weren't at full strength either. Regular varsity competitor Tyler Strouhal sat out in order to let a shoulder injury finish healing. Two other varsity regulars, seniors Casey Caton (171) and Taylor Teeters (189), also were absent from the lineup. Both no longer are with the team, Averill said.
Lansing next competes at 9 a.m. Saturday at the Louisburg Invitational. The competition will be a triple-dual format with Louisburg, Tonganoxie and Gardner-Edgerton.
"We'll go two rounds in the morning, then have a lunch break and go one more in the afternoon and be home in time for the Chiefs (playoff game)," Averill said.
Louisburg and Tonganoxie both have some talented wrestlers, and Gardner-Edgerton is ranked seventh in 5A. Averill said he expects to see his squad more focused the next time it steps on the mat.
"Overall we still seemed a little flat as a team, so hopefully it was just first time back on the mat and we'll be able to go ahead and push ourselves forward," he said. "I'm hoping to see the quality team that I know that we are on Saturday."
NOTES
Thursday night was Senior Night at Lansing High. Senior wrestlers Kyle Buehler, Kyle Grape, Brad Zink and Scott Keller were recognized along with senior manager Samantha Clark.