Another rally falls short as
LHS

girls lose to Mill Valley
Lansing boys lead for 20 minutes, then falter in sixth straight defeat
Shawnee — Those pesky first halves continue to snakebite the Lansing High girls.
Three weeks after suffering a two-point loss to Tonganoxie in a game where Lansing erased a 19-point deficit in the second half, the Lions were the comeback kids again. This time they trailed the Mill Valley Jaguars by 17 points in the second half before rallying in a 42-40 road loss in Kaw Valley League basketball action.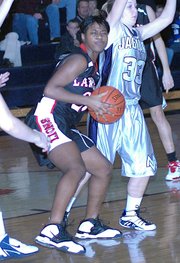 "We didn't have a bad start, but we can't get that 12- or 13-point hole. It's just too tough to come back from that. It's two close ones," LHS coach Keith Andrews said. "We were talking to the girls in there. It's there. We've just got to find it from the beginning or find it sooner. We can't wait until the fourth quarter and turn it on or hope it comes through or hope somebody carries it thorugh. We've got to bring it from the beginning."
For the first six minutes Lansing actually was clicking on offense. It had a 10-8 lead as proof. Junior Katie Nietzke was especially on-target as she had nine of those points.
Then came a five-minute scoring drought that turned the game upside down. By the time Lansing scored again - on a put-back by sophomore Brittney Lang with 3:22 left in the second quarter - Mill Valley had a nine-point lead. The Jaguars took a 26-13 lead into halftime.
Mill Valley hit six of its first 12 shots in the second half and opened up a 38-21 lead with 3:11 left in the third quarter. That was almost the identical time when Lansing began its comeback against Tonganoxie 21 days earlier.
Mill Valley went ice cold from the field as Lansing picked up its defensive intensity. The offense followed suit. The Lions went on a 16-0 run during the next six minutes as Lang drilled a pair of three-pointers and freshman Amy Briggs swished one of her own.
The Jaguars ended their scoring drought when Stanisha Garlington scored on a layup with 4:58 left in the game. The Lions responded quickly as junior Morgan Chiles hit a baseline jumper. Later Chiles was fouled on a shot. She sank one of two free throws and tied the game at 40-40 with 1:02 left. Garlington nailed a pair of free throws with 17.2 seconds left, however, and the Jaguars hung on for the victory.
"We had a lot of chances tonight," Andrews said. "It was just a little too late at the end."
Andrews said he was proud of his players for refusing to give up when they faced a massive deficit. He was particularly complimentary of senior Chanel Johnson. In her best performance of the season, she had two offensive rebounds and a save that all led to baskets during the 16-0 run.
"Chanel's been really hustling," Andrews said. "She's got her ankles healed and she's kind of got a feel for what we're doing now. She's been really working well, particularly rebounding well, and she came in and gave a spark."
Andrews also was complimentary of Briggs. She only played the final two quarters, but she provided reliable ball-handling and tough defense and brought stability to the offense during Lansing's rally.
"The kids have confidence in her, so we look for her to keep contributing," Andrews said.
Nietzke scored a game-high 15 points on five-for-18 shooting. Lang scored 10 points, Briggs had five, Alexis Ellis and Chiles scored three apiece and Christine Cordes and Amanda Darrow each had two.
Lansing next plays at 6 p.m. Tuesday at Santa Fe Trail.
Mill Valley 51, Lansing boys 38
If high school basketball games lasted 20 minutes, then the Lansing High boys would've earned an impressive victory Friday night at Mill Valley.
Games last 32 minutes, however, and those final 12 minutes were unkind to LHS in a 51-38 loss.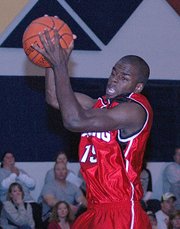 With the loss, Lansing falls to 0-6 for the season and 0-3 in the Kaw Valley League, but first-year coach Rod Briggs said he isn't concerned about records. He doesn't want his players to be either.
"What I just talked to them about is don't be wrapped up in the record right now and all that," Briggs said. "It's a long season and we're going to continue improving, and we've just got to play one game at a time and just look for improvement and the wins will come. We obviously showed we can play with Mill Valley and actually outplay them during the first four minutes of the third quarter, and then we let everything just kind of fly away.
Lansing played with poise throughout the first half. Senior forward Jeff Jackson swished three free throws and sophomore point guard Curtis Beall drained a three-pointer that kept LHS within 7-6 after the first eight minutes.
Mill Valley attempted to take control of the game in the second quarter as Jared Smith hit a three-pointer in the corner and Caleb Smith, Trey Scott and Michael Mahan each scored baskets. Lansing weathered each of those challenges and overcame Mill Valley's three-point lead. Kevin Johnson scored on a coast-to-coast layup, Clayton Hall drilled a three-pointer from the corner and Johnson tipped-in a bucket at the buzzer to give the Lions a 23-21 lead at halftime.
LHS opened the third quarter in a flurry as Johnson scored on a put-back and a pull-up jumper. Beall's floater along the baseline with 5:57 left in the quarter gave the Lions a 29-23 lead. At that point they looked poised to take control of the game, but that's right when the offense went cold.
"We didn't take the shots that I wanted at that moment," Briggs said. "That let them get a run, and right now we're just not mentally tough enough to fight off adversity."
Lansing went scoreless for the next 7 1/2 minutes while Mill Valley made an 11-0 run. The Lions pulled within 37-24 with 4:55 left in the game on Bobby Hauver's banked three-pointer from the left corner, but six straight points by the Jaguars put the lead out of reach.
Kevin Johnson led Lansing with 10 points, Beall had nine, Jackson scored seven, Hauver and Hall scored five and Will Johnson added two. Jared Smith led Mill Valley with nine points.
Lansing next plays at 7:30 p.m. Tuesday at Santa Fe Trail.