Navinsky looks forward to retirement
Leavenworth — Don Navinsky has retired from the Leavenworth County Commission after 12 years; he's going home to his farm.
Navinsky celebrated his retirement at a banquet on Friday, Jan. 5. And even though he was ready to return to his duties at home, he said the decision to retire was bittersweet.
"Yes it was, yes it was," Navinsky said. "You have to make the decision early not to run and I made that decision. I've got other obligations; my mom is still alive, she's up here.
"I got to where I felt like I couldn't face that set like I'd like to do and still take care of my family obligations."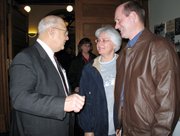 Navinsky was in good cheer greeting the long line of friends and colleagues who attended his retirement party at the Riverfront Community Center in Leavenworth. He said among the accomplishments he was most proud of were the construction of the Justice Center, the jail project and the tightening of the county's finances.
"When I came in, the bond issue had failed - the same time I was elected - to build the jail, and we started working with the cities and getting all that together," Navinsky said. "We got the sales tax passed, built that and got it built on time and on budget.
"I think what I'm really happy about is I got in and we started line-item budgeting and line-item accounting. It's made the departments more accountable and you can actually look back and see where the money was spent on each item."
Navinsky said he had a few unfinished goals, but that he was confident they remained in capable hands.
"The issue isn't done on (U.S. Highway) 24/40, and that's just an issue that's going to take a lot of work. Other people, new people behind me, I'm quite sure can get the details worked out."
Navinsky's fellow commissioners, Dean Oroke and Clyde Graeber, remember their colleague for his frugality, but also for the loyalty he had to the taxpayers. Oroke said Navinsky's insistence that county contractors provide government discounts has created lasting precendents.
"Those are things that after he complained enough, they gave us those discounts as the norm," Oroke said.
Oroke also said Navinsky was deeply committed to taxpayers and had earned enduring respect from them.
"As late as Friday morning, there was a call from a constituent of Don's that had a little problem with the road, and she wanted to get it taken care of before he left office," Oroke said.
Graeber said he, too, was thoroughly impressed by Navinsky's character.
"I've been in public service now well over 21 years," Graeber said. "And in those 21 years, Don Navinsky has been one of the most honorable, hard-working, dedicated, helpful people I've ever seen."
Some, like Francis X. Thorne, a Lansing Realtor, said Navinsky brought a certain down-home sensibility to the commission.
"Don Navinsky is a good old farm boy who did business with a handshake. Guys like that aren't around any more," Thorne said.
Navinsky's plans include spending time with family, looking after the farm and a more leisurely lifestyle.
"Getting back with the wife and family, spending time doing things I've neglected for years, getting caught up on that," he said. "Going back and having time to stop and talk to my neighbors and spending an hour to talk to them instead of having to stop and rush and get going."
Though it was hard for Navinsky to choose to leave the commission, he'll get to take with him his most prized compensation for time served: all of the relationships he's developed over the years. It's a token of the enjoyment he's had serving the county.