For 1-year-old twins, a celebration at home
Steve and Kendra Toedter chose a Noah's ark theme to celebrate their twins' first birthday, but the twins, they say, really aren't two of a kind.
"They are night and day," Kendra said, referring to son Langston and daughter Kendall, who turned 1 on Sunday, Jan. 7.
"They're totally different - salt and pepper," Steve said. "They don't look alike."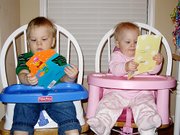 The parents talk about their children with the same tag-team effort they use to care for the twins and their oldest daughter, Hailyn, who will be 3 in March.
"She (Kendall) is high maintenance all the way," Kendra said. "She has to be held and you have to fight her to go to bed."
"You put him (Langston) in the bed and he goes to sleep," Steve said.
One year after their births, the babies still don't sleep through the night, but the parents won't complain.
These twins have grown leaps and bounds in one year, and they're home where they belong.
Kendra Toedter stepped away from the twins' birthday party Saturday, Jan. 6, and reflected on her pregnancy while friends and family members took turns holding the birthday bundles.
"When I went in for the sonogram, I said, 'I'm getting kind of big. You know, I didn't wear maternity clothes with Hailyn until seven months,'" she said.
The doctor told her the size change was normal: Women often gain more weight during their second pregnancy.
But then the doctor took a closer look and told Kendra she was growing so quickly because she was carrying two babies.
"I started hysterically crying on the table. She was like, 'Are you OK?' I said, 'No I'm not OK. You guys told me I'm having two babies. How is that supposed to be OK? I have an 18-month-old at home,'" Kendra said.
A second-grade teacher at Lansing Elementary School, Kendra already had taken months of ribbing from her colleagues.
"All the teachers at school had been joking with me that I was going to have twins," she said, adding that multiple births do not run on either side of the family.
Langston and Kendall were due the next spring on March 6, 2006.
By fall, however, the babies' weight became an issue.
Langston was getting bigger much faster than his sister, and the doctor grew concerned.
Six weeks before the twins were delivered, the doctor ordered Kendra to bed rest. But with a toddler at home, that would be a challenge, and she was admitted to Overland Park Regional Medical Center.
AN EXTENDED STAY
Kendall slips out of her mother's arms and traipses across the living room and past the guests. The first one born, she's also the first to walk.
Soon she's holding her big sister's hands and they're dancing.
Across the room, Langston enjoys a bottle while lounging in the arms of grandma Shirley Toedter, of Leavenworth.
"He's always been bigger," Kendra said of Langston. "He just likes to eat all the time."
Next it's time for gifts and the pair tears through yards of tissue and wrapping paper.
An hour later, frosting covers the twins' fingers and lips while family members and friends watch as they scatter cupcake crumbs across their high chairs.
"I brought them home and I had three kids under the age of 2," Kendra said. "It was impossible. It was crazy then and it still is."
But bringing the twins home didn't happen soon enough for the couple.
At 32 weeks, Kendall entered the world at 3 pounds 13 ounces, and Langston greeted his parents nine minutes later weighing 4 pounds 15 ounces.
"They had a little bit of sleep apnea, so they put them on a heart monitor. They were breathing fine, but they were so tiny," Kendra said.
The doctors told the Toedters they should be prepared for the twins to stay in the hospital's neonatal intensive care unit for two months.
"It was funny. I kept saying I wanted to have them so I could go home, and then after they were born, I didn't want to go home. I wasn't ready to leave my babies. I was fighting it," Kendra said.
One week after delivering the children, she headed home to rural Lansing while Langston and Kendall stayed behind.
Every day for three weeks, Kendra drove to Overland Park, where she breastfed the babies.
"It was hard on everybody. I had to stay there for eight hours a day," Kendra said. "It was hard, but it was worth it."
A toll-free phone number also allowed the Toedters to stay in touch with the nursing staff, who monitored the babies' every move.
"I would call up there all hours of the night and check on them," Kendra said. "All the nurses wanted to cuddle with my babies because they weren't sick."
The doctors told the couple they could bring the twins home as soon as the babies gained weight every day for a week.
On Feb. 6, the twins finally came home - one month earlier than doctors had anticipated.
And they haven't stopped growing since.
Langston weighs in at 27 pounds, and Kendall at 24.
"They're huge now. Kendall's already walking. Langston's enormous," Kendra said. "They're off the charts."
BALANCING ACT
Much like the careful balancing babies have to master to walk, taking care of three small children requires a similar skill, especially when both parents work outside the home.
Kendra Toedter returned to her job at Lansing Elementary in the fall, and Steve Toedter works at the United States Penitentiary in Leavenworth.
Steve's mom, Shirley Toedter, and Kendra's mom, Margaret Hartman, of Lansing, come over to the house and lend a hand three days a week while the parents are at work.
And there's also help from the twins' big sister, Hailyn, who has assisted from the beginning.
"They were so tiny," Hailyn said. "We put them in their cribs to make them feel better and we doctored their ears and their mouth."