Fire District No. 1 earns key rating
Lansing business owners should start seeing some relief in their building insurance premiums beginning in April.
Rick Huhn, fire chief of Leavenworth County Fire District No. 1, said the district received word last week that the Insurance Services Office public protection classification rating for Lansing would go from a 5 to a 4 on April 1.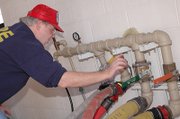 "Businesses should notice a difference in their premiums," Huhn said. "Of course, if you talk to six insurance guys, they're going to give you six different numbers. But that's a basic rule of thumb for what they've told me."
ISO collects information on a community's public fire fighting capabilities, analyzes the data and assigns a classification from 1 to 10, with 1 being the best.
District 1's evaluation took place this past summer.
Homeowners in rural areas served by the district, which stretches from the Missouri River west to County Road 211 and from Dempsey Road to Shawnee Street in Leavenworth, will see lower premiums, too. The district's rating went from a 9 to 4 in Delaware Township and from a 10 to 9 in the southern half of High Prairie Township.
Huhn said the rating in Lansing didn't drop enough to decrease insurance premiums for homeowners in the city. To get the rating lower, he said, would entail a switch from a mostly volunteer department to one with a paid, fulltime staff.
"How much money do you want to throw at it?" asked Huhn, who calculated the cost of a paid, fulltime staff equal in size to the staff would be about $1.6 million annually. "We're happy with our 4."
Several improvements within the department led to the better ratings, Huhn said, among them: the opening of the High Prairie station, increases in volunteer training and the purchase of a new fire truck in summer 2006.
Huhn said he was proud of the new ratings, the first for the department in 11 years.
"I'm glad we're there," he said. "We worked real hard to get there."
Work isn't done, though, for the district, its 27 volunteers and four fulltime firefighters.
Huhn said the district still was looking to build another satellite station in the northern part of High Prairie Township, which would decrease response time to fire calls in that area. The district also will get another new fire truck later this year and is looking to add an aerial ladder truck in the coming years.
Firefighter training exercises take place most every Saturday at the main station, 111 E. Kansas Ave.
And, as Huhn said, "We could always use more volunteers."
In 2006, the department responded to a record 835 calls.