Killer pleads guilty to escape
Leavenworth — Convicted murderer John Manard has pleaded guilty to charges related to his February 2006 escape from Lansing Correctional Facility.
Manard appeared Wednesday, Jan. 10, in Leavenworth County District Court and entered the plea, which was part of an agreement between Manard's court-appointed attorney, Terry Lober, and Leavenworth County Attorney Frank Kohl.
In exchange for the guilty plea on felony escape charges, a felony charge of trafficking in contraband was dismissed.
Manard, now 28, escaped from the prison Feb. 12 with the help of Toby Young, then director of the Safe Harbor Prison Dogs program. Manard hid in a dog crate in the back of a Safe Harbor van and Young drove away from the prison.
Twelve days later, Manard and Young were captured by authorities in Tennessee.
Manard already is serving a life sentence for first-degree murder, aggravated robbery and criminal possession of a firearm for the 1996 carjacking and murder of a Johnson County man.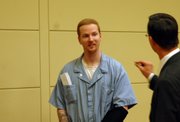 Kohl said that under Kansas sentencing guidelines, Manard could receive up to 130 months in prison for the escape. That sentence would have to be served consecutively, meaning Manard would have to become eligible for parole and be approved for parole on the murder charge before serving his sentence for the escape, Kohl said.
The contraband charge, also a felony, could have added up to 32 months onto the sentence. That charge stemmed from a cellular telephone Young admitted smuggling into the prison for Manard that was used in the getaway.
After accepting the plea, Judge Frederick Stewart ordered Manard to appear in court at 9 a.m. Feb. 2 for sentencing.
Kohl said that after several months of plea negotiations with Lober and court appearances on the matter, he was satisfied to have the matter settled.
"I talked to Mr. Lober before and I said, 'We need to do something with this,'" Kohl said.
During the hearing, Manard appeared relaxed, leaning on the bench, laughing and turning around several times to smile at the audience.
After the hearing, Lober said he was satisfied with the plea agreement.
"There's a sealed indictment in the federal system," he said. "I didn't want him to plead out to any more offenses than was absolutely necessary. They certainly had sufficient evidence of the escape."
Lober said he thought the indictment was related to weapons charges and would be unsealed after Manard's sentencing in February.
"The sealed indictment is this big elephant that nobody will talk about," Lober said. "I can't really know exactly what he's going to be charged with, although I can take a pretty good guess."
Federal prosecutors already have alleged that Young gave two pistols to Manard after the escape.
Lober said Manard had asked him to represent him in federal court.
"He's asked me to and I may do it pro bono because, quite frankly, I enjoy representing John Manard," he said, comparing Manard to some of his other clients.
Lober called Manard an "intelligent guy" who has made some "serious mistakes" and is now paying the price.
Young, now 49, pleaded guilty in Leavenworth County District Court in June for her role in the escape. In July, she was sentenced to 21 months in the Topeka Correctional Facility.
Kansas Department of Corrections records show Young has been held since Oct. 6 at a federal detention center, where she awaits trial on the federal weapons charges.