At last … a victory!
Lansing High boys shake six-game skid, collect first victory on the road at
SFT
Carbondale — Five minutes was all the time Lansing High boys basketball coach Rod Briggs needed to address his players after the game Tuesday night.
The first-year coach didn't have a lot to go over after his Lions defeated the Santa Fe Trail Chargers, 42-32, in Kaw Valley League action. Instead, the post-game chat involved a few congratulations and a challenge to keep working hard.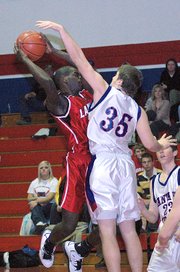 "After losses I talk a lot," said a smiling Briggs. "So if they don't want me to talk a lot, win. That gets me pretty quiet, and I make it brief and then we get on the bus and we go home."
Although Briggs was brief in his words to his team, he was long-winded when complimenting his players.
"They played pretty hard and we saw a lot of good things," he said. "We've still got to get our post players finishing inside a little better, and that will come. And Stephen (Didde) has been sick, so he'll be a lot better (next time), but when we get everything clicking we'll be a pretty formidable, tough club."
Lansing (1-6 overall, 1-3 Kaw Valley League) dominated from start to finish Tuesday night. It sprinted to a 7-0 lead on a three-pointer from Clayton Hall and buckets by Didde and Kevin Johnson. Santa Fe rallied with seven unanswered points, but LHS was quick to respond. The Lions slowed the tempo and patiently looked for open shots. The open looks came from beyond the arc. Johnson drained a three-pointer to start a 16-4 run. Then sophomore Curtis Beall swished three treys in a row to blow the game wide open.
"We figured we'd just swing the ball and wait until we got a great look," Beall said. "There was no need to rush because they weren't pressuring us. Then once I hit the three's, they had to come out and guard us so it opened the inside up and we got a lot of great looks in the post."
Free throws and put-backs from Didde, Jeff Jackson and Cody Rush helped the Lions maintain their lead and take a 23-14 lead at halftime.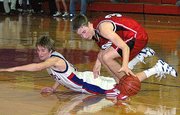 A three-pointer by Beall early in the third quarter pushed Lansing's lead back to double-digits, where it remained for the rest of the game. The Lions stepped up their defensive pressure and forced the Chargers to go zero-for-11 from the field in the third quarter. The Lions led by as many as 15 points in the fourth quarter.
Beall led all scorers with 14 points, Kevin Johnson had seven and Hall added six.
With a victory finally to their credit, Beall said the Lions understand they can't get too comfortable.
"We've still got to go into practice and work hard because we're still 1-6," he said. "We still don't have that great of a (win) percentage, so we just need to go back to practice, work hard and come back against Turner and get another win."
Turner is Lansing's next foe. The teams will meet at 7:30 p.m. Friday at LHS in the Winter Royalty game. Turner is 1-7 and lost by six points to Mill Valley on Tuesday night.
Briggs has seen Turner play, and he said the Golden Bears will present the Lions with some match-up problems.
"They're very athletic and very quick," Briggs said. "That's going to pose a different set of problems than we had tonight. We were probably as athletic or a little more athletic than Santa Fe Trail, but we're going to see a team on Friday that's going to come after us and really test us to see how much we've improved at ball-handling."