LHS

girls find no comfort in narrow defeat at Santa Fe
Briggs, Lang, Nietzke each score 13 points for Lions
Carbondale — This time the comeback came early for the Lansing High girls basketball team.
The result was the Lions' most complete performance of the season, but it wasn't quite enough to garner a victory.
Santa Fe Trail 65, Lansing 58.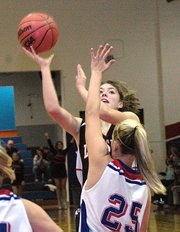 The loss was Lansing's fourth straight, the last three of which have come by a combined 11 points against some of the top teams in the Kaw Valley League.
"It gets a little tiring," said sophomore point guard Brittney Lang. "We know we're there : we're almost there. We just can't get down so many points at the half and have to claw back."
Unlike the previous two losses when Lansing trailed by double-digits at intermission, it trailed only 26-24 at halftime against Santa Fe. That's because the Lions didn't wait until the third quarter to rally. Instead, the comeback began with 6:24 left in the second quarter when the Chargers led 18-7.
Morgan Chiles, Amanda Darrow and Lang scored consecutive baskets to bite into the deficit. Then Katie Nietzke converted a three-point play. Lang drilled a three-pointer, Amy Briggs made a layup. A free throw by Chiles and two more from Briggs had the Lions within two at the break.
Lansing (1-6 overall, 0-4 KVL) tied the game 20 seconds into the third quarter when Briggs found Darrow open on a backdoor cut. Briggs later gave LHS the lead with a three-pointer. Nietzke added another trey on the ensuing possession. Suddenly the Lions led 32-28.
The Chargers eventually tied the game at 33-33, but the Lions ended the quarter on an 11-2 run as Lang and Nietzke canned back-to-back three-pointers.
Lansing's nine-point lead didn't last long as a few unfriendly whistles worked against the Lions. Santa Fe attempted 25 free throws in the final quarter. Two of those came when LHS coach Keith Andrews was whistled for a technical foul when the Lions were ahead 44-43.
Andrews said the technical was a turning point in the game, and he said he takes the blame for the loss.
"I told the girls that was my fault, and I can't fault them for anything. They played 110 percent, they played a complete game, they worked hard and they're coming together as a team. They've gotten tougher. They're more aggressive. They're ready to play. They want to beat people. We've just got a find a way to do it. We're a play away from being solid."
Brooke Pryor led Santa Fe with 33 points. Briggs, Nietzke and Lang led LHS with 13 apiece.