Program begins for 3rd-graders
Kiwanis, site council recognize 105 students for bringing up grades
A BUG has invaded Sallie Zoll's classrooms, but there's no need to call an exterminator. Students and teachers welcome it.
Bring Up Grades recognizes third-graders who raise their grades and maintain or continue to raise them from one quarter to the next.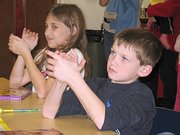 Lansing Elementary School principal Tim Newton ushered in the new program Monday, Jan. 8, with classroom presentations, certificates and prizes.
Students and teachers in seven classrooms clapped and cheered as 105 third-graders were honored by Newton and members of the Lansing Kiwanis Club and the LES Site Council.
"Not everybody got an award. Don't get down. Don't give up, because we're in the third marking period right now and we also have the fourth marking period," Newton told students in Janet Moorehead's classroom. "There's plenty of time. You know what you need to do."
The 24 students who earned all A's on their second-quarter report cards received a pencil, a recognition certificate and a bumper sticker. They also will receive an "I Love BUGs" T-shirt. The Lansing PTA donated $500 for the T-shirts, which are being printed.
Students who earned all A's and B's - there were 53 in all - received a pencil, a recognition certificate and a bumper sticker. And 28 students who raised their grades from the previous quarter in three of six subjects earned a pencil and a recognition certificate.
Newton said it cost about $1,200 to launch BUG, a Kiwanis program. Lansing club members solicited donations from area businesses to pay for the prizes and certificates.
Newton's goal is that all 160 third-graders will make the BUG benchmark during the school year.
"Everybody's capable of bringing up grades," Newton told the third-graders. "I've got lots of prizes to give away. I don't want to end up at the end of the year with all these prizes. I want to give them all away this year."
Students who achieve BUG honors also are acknowledged on the school's BUG bulletin board by the front door and during LES morning announcements.
Newton, a Kiwanis member himself, said the mission of the program is to motivate students to do their best and to foster good work ethic and study habits while involving businesses and civic organizations in the process.
Kiwanis member Joyce Glasscock, a retired teacher who now fills in as a substitute teacher, said she appreciated the students' hard work.
"I just think it's important that children know that we believe in them," she said.
Carla Wiegers, an LES Site Council member, assembled the BUG bulletin board with Rhonda Boyd.
"I think generationally it's exciting to see a service organization like the Kiwanis reach so far into the future," Wiegers said.
And the program, parent Denise Atkins said, already is generating excitement among children in the younger grades.
"My son (Zachary) is in the program, and he is so excited," she said. "My other son is in first grade, and he's like, 'If you can do it, then I can do it.' It's building from the older kids and passing it on down to the younger ones."
The LES Site Council launched the program with the third grade because it is the first year Lansing students receive letter grades on their report cards, Newton said.
The group hopes to eventually expand the program to the fourth and fifth grades, and members are researching similar programs for students in kindergarten through second grade.