You can take Mary Ann Sherley out of Lansing, but you can't get her to stop being involved in the community.
Sherley and her husband, Raymond, decided to "downsize" their living quarters not too long ago, which meant their first major relocation in decades. Even though they had spent 35 years in Lansing, no longer having five children in the house meant a lot of extra space. Practicality won out in the end, but it wasn't easy for her to move - even though it was just down the road.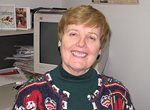 "It was time to get something more manageable," she said. "We had put down pretty deep roots."
Sherley serves as the president of Lansing Community Club, which celebrated its 90th anniversary in 2006. Whether she retains the reins in the future, she'd hopes the club can improve efforts at getting its name out to prospective members. She's met several newcomers that knew nothing about the club, even after several months.
"I think it's sad that we don't have more of an outreach into the neighborhoods," she said.
Sherley spent most of her career as an operating room nurse, and she continues her duty to the field as a volunteer for Birthright. Being in the room for so many surgeries over the years gave her a stalwart stomach around blood, though she noted such composure doesn't apply to weddings.
Sherley acknowledged the demands that the nursing field placed on her but said it was the incredible rewards that had kept her committed to the profession for 25 years.
"The part when you are devoted to the patient - you are their eyes and ears," Sherley said. "It really, really touches you if you let it.
"It's very stressful and very emotional, but it's also very rewarding."
Name: Mary Ann Sherley
Address: 4250 125th St., Leavenworth County
Occupation: Retired, volunteer for Birthright
Graduate of: St. Mary's College
Family: Raymond Sr., husband; Catherine Trowbridge, Elizabeth Mary Riccio, Janet Lynn Crouse, daughters; Raymond Jr., James William, sons; many grandchildren and great grandchildren.
How long have you lived in Lansing and what brought you here? Marriage. Husband Ray took a teaching job at Lansing High.
What do you like most about Lansing? "I think the small-town atmosphere. The way it's grown up and handled the expansion. It's been a great place to raise a family."
What do you do for fun? "I'm learning to be a gardener; I like to read; I kind of have a collection of angels : we're very busy with keeping up with sports and scholastic events for the grandchildren."
What would surprise people about you? "Probably that I'm basically an introvert."
What's the best advice you've ever received? "Treasure each day and moment as it might be your last. Keep your family close to your heart."
What organizations or clubs do you belong to? Lansing Community Club, president; Birthright volunteer; St. Francis de Sales Church, minister and liturgist; Movers & Shakers; Red Hat Society, social director.