Defensive pressure sparks
LHS

girls to victory
Lions force 41 turnovers in 63-44 win
The Lansing High girls amped up their defensive pressure Friday night against the Turner Golden Bears. The result was a comfortable 63-44 victory at Johnsmeyer Gymnasium.
The win snapped Lansing's four-game losing skid that included games against three state-ranked teams.
Photo Gallery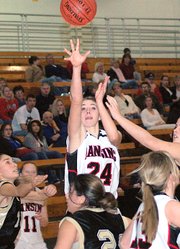 LHS girls trample Turner
"I told the girls if we win 1-0, 30-29 or 80-0, we want to play well, and I think we did that for the most part," LHS coach Keith Andrews said. "We had a little lapse at the end, but I wanted to play well. I think we accomplished that."
The Lions (2-6) played their best on the defensive end. They forced 41 turnovers and converted most of them into points. Freshman Amy Briggs and junior Amanda Darrow highlighted the defensive effort with nine and eight steals apiece. Darrow also grabbed eight rebounds in the victory.
"We just stepped up a little bit, got our hands in the passing lanes and started thinking," Andrews said. "We switched to a little half-court attack and that helped a little bit, I think we got turnovers almost every time off it, and pressing for us means the tempo goes up for their offense which means they throw the ball away a little more and that's what we're trying to force. We want them to make them play to our tempo."
Turner (0-7) forced the tempo in the opening minutes as it surged to a 5-0 lead. Katie Nietzke knocked down a pair of free throws with 6:01 left in the opening quarter, however, and Lansing was in control from there. Brittney Lang drilled a three-pointer and Nietzke swished two more free throws to tie the game at 7-7.
With the offense finally in a groove, the Lions picked up a full-court press after made baskets. At one point they forced seven straight turnovers and converted them into nine points. They closed the quarter on a 17-5 run and took a cozy 24-12 lead into the second quarter.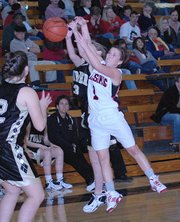 Lansing continued to force turnovers with its pressure defense in the second quarter. A three-pointer, layup and two free throws by Nietzke and two baskets from Lang pushed the lead to 35-12. Turner snapped a five-minute scoring drought with 3:11 left in the quarter, but by then it was too late. LHS took a 42-20 lead into halftime.
The Lions led by as many as 28 points in the second half before coasting to the finish. The victory provided some much-needed relief after three straight narrow losses, senior Chanel Johnson said.
"We've been working hard in practice, we've been sweating in practice and saying, 'Oh, we're going to get this. We're going to get this,'" she said. "Now we have it."
Nietzke scored a game-high 17 points, Lang had 13 and freshman Amy Briggs chipped in 11 to lead Lansing's offensive effort, but it was the switch from zone to man-to-man on defense that made the biggest difference for the Lions. After making three straight comebacks because of slow starts, the man-to-man defense forced the Lions to play with intensity from the opening tip.
Andrews said the Lions discovered they can go much deeper on their bench and receive solid contributions. He mentioned the play of Morgan Chiles, Kara Ritchey, Alexis Ellis, Abbey Lozenski and Johnson off the bench as providing a big boost of energy.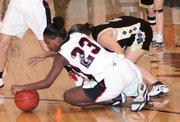 "I think maybe we got a little deeper tonight," Andrews said. "The first game Abbey played at Mill Valley she was terrified at times, but she did pretty good tonight."
In addition to the top three scorers, Christine Cordes scored six points, Chiles had five, Darrow followed with four, Lozenski had three and Elizabeth Cristiano and Mary Lyon each scored two.
Lansing next plays at 3 p.m. Monday against Jefferson County West in the first round of the Tonganoxie Invitational Tournament.