Griffen keys offense as Lansing
JV

girls roll
Lozenski, Ellis score eight apiece as Lions win by 31
For two minutes Friday night it looked like the Lansing High junior varsity girls basketball team was in trouble against Turner.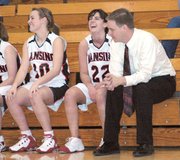 The final 30 minutes were a different story, however, as the Lions rolled to a 47-16 victory at Johnsmeyer Gymnasium.
Turner scored the first four points of the game while Lansing misfired and turned the ball over. After two shaky minutes, freshman Abbey Lozenski drilled an 18-footer from the top of the key that appeared the calm the Lions' nerves. Freshman Katelyn Griffen scored moments later, and then sophomore Alexis Ellis scored back-to-back baskets. Griffen swished a 15-footer and a three-pointer that gave the Lions a 13-6 lead by the end of the first quarter.
Lansing's offense was just starting to simmer. It came to a boil in the second quarter as Lozenski drained a three-pointer from the top of the key. Sophomore Cassandra Murphy followed with a lay-in, junior Katie Smith knocked down a free throw and freshman Chelsea Weeks scored from close range. Freshman Kari Kelly knocked down a jumper, Griffen scored again and freshman Amy Briggs swished a three-pointer. That outburst gave the Lions a 28-10 lead at halftime.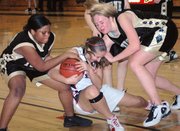 Griffen connected on two more three-pointers in the third quarter and Lozenski added another from long range. Ellis poured in four more points in the quarter. Katie Cristiano scored on a layup and Griffen added a free throw to push the lead to 44-14. By then the lead was plenty safe and the Lions coasted to the finish.
Griffen scored a game-high 17 points, Lozenski and Ellis added eight apiece and Briggs and Murphy scored three. Cristiano, Weeks and Kelly chipped in two apiece and Smith finished with one.
The Lansing JV girls (3-2) next play Jan. 22 and 25 at the Mill Valley Junior Varsity Tournament.