LHS

boys run streak to two
Beall, Hall lead balanced scoring attack
For three quarters Friday night the Lansing High boys basketball team made just enough mistakes to let Turner hang around, but in the fourth quarter the Lions regrouped and then finished what they started.
Lansing 45, Turner 36.
Photo Gallery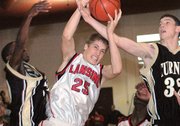 LHS boys vs. Turner
The victory was the second straight for the Lions after dropping their first six games of the season. It also sends them into their 4:30 p.m. Monday game against Atchison at the Tonganoxie Invitational Tournament brimming with confidence. The Redmen are ranked No. 5 in Kansas Class 4A.
"We've just got to keep working hard," said sophomore Clayton Hall, who nailed two big three-pointers in the decisive quarter. "These past two wins we've wanted it more than the other team, so we've just got to want it more than the other team."
Lansing opened the game on a scorching pace as it hit its first three shots and took a 7-0 lead in the first 95 seconds. After that, however, the Lions got sloppy with the ball, turned it over four times in a row and allowed the Golden Bears to score eight unanswered points. The nearly six-minute scoring drought ended on Hall's 18-foot jumper, but the Lions ultimately trailed 10-9 after the first quarter.
LHS regained the lead in the second quarter as 6-foot-6 sophomore Cody Rush scored three straight buckets from close range. A long jumper by Hall and a pair of free throws by junior Bobby Hauver gave Lansing a 19-17 lead at halftime.
Back-to-back baskets by junior Kevin Johnson pushed Lansing's lead to five points early in the third quarter, but Turner responded with a 6-0 run for a 24-23 lead. Just as it appeared the Bears were going to take control of the game, sophomore Curtis Beall provided the momentum shift of the game. Beall swished a three-pointer from the corner and was fouled by Turner's Delton Henderson. Beall sank the ensuing free throw and put LHS back on top 27-24. The Lions never trailed again.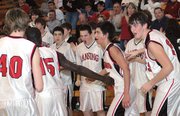 Turner inched back to within 31-29 by the end of the third quarter, but Lansing never lost grip on its lead. Instead, its sophomore guards - Beall and Hall - took command. Beall patiently ran the point while Hall worked to get open. After forcing the Bears to play defense for 45 seconds, the Lions found Hall wide open on the wing for a three-pointer. Johnson scored on a layup on the next possession and then Hall drilled his second trey of the quarter after another long possession.
"We just tried to make smart passes and don't turn the ball over and be smart with the ball," Hall said.
Hall's three's pushed the lead to 39-29. Junior Bobby Hauver scored six points down the stretch to help put the victory away.
Hall's long-range accuracy was reminiscent of Beall's four three-point effort during Tuesday's win against Santa Fe Trail. First-year LHS coach Rod Briggs said neither performance surprised him.
"I tell you what, I hate to give people scouting reports, but our two sophomore guards can play," he said. "Now, they do make mistakes because they're sophomores and they've got a lot going on and we're playing Curtis way too many minutes, but Clayton Hall just made some unbelievable shots there at key times for us. It seemed like he came up big every time we needed it."
The sophomore guards led a balanced scoring attack for Lansing. Beall was the high scorer with 11 points. Hall with 10, Hauver had eight, Rush and Johnson scored six and Jeff Jackson added four.