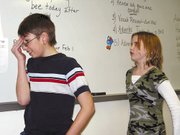 Taylor White knows how to get the most out of a music lesson - even how to spell words.
The proof came at a school spelling bee this week. When classmate Luke Forbach stumbled over the word "rhapsody," Taylor capitalized on the moment.
"I take piano and I just heard this song 'Hungarian Rhapsody' that my friend did and I remembered it," explained Taylor, a Lansing Middle School seventh-grader.
After she blurted out rhapsody, she moved on to her final challenge - "rheumatism" - a word that didn't come as easily.
Taylor leaned back and forth on each leg and rolled her eyes before the letters finally flowed from her mouth.
Then a smile appeared on Taylor's face as English and literature teacher Alicia Moody declared her the winner of the LMS seventh-grade spelling bee Tuesday, Jan. 16.
"You got it!" Moody exclaimed.
And with that declaration, Taylor also became the first qualifier to represent Lansing schools in the Leavenworth County Spelling Bee next month.
Moody, facilitator of the bee, said students earned eligibility in the contest by first competing in their language arts classes.
Seventeen seventh-graders participated in the bee Tuesday.
The spelling bee also served as a qualifier for the Kaw Valley League Spelling Bee, open to seventh- and eighth-graders.
The top four spellers Tuesday - Taylor, Luke, Mika Cummins and Katherine Overend - will compete at the KVL bee, which will be held sometime in February, Moody said.
The top four performers at the eighth-grade spelling bee Monday, Jan. 22, also will advance to league competition.
The winner of the sixth- and eighth-grade bees at LMS will join Taylor White at the county bee as well. Sixth-graders will vie for the title today, Jan. 18.
And the top finisher in the fifth-grade spelling bee at Lansing Intermediate School on Friday, Jan. 19, also will advance to the county bee, which will take place at 1 p.m. Friday, Feb. 2, at the Byron H. Mehl American Legion Post 23, 418 Cherokee St., Leavenworth. The winner will move on to state competition in the Topeka Capital-Journal State-Wide Spelling Bee on March 24 at Washburn Rural High School, Topeka.
Moody, who has assisted with the LMS bees for at least 12 years, said Lansing students tend to perform well at the county and league bees.
"I'm extremely proud. They usually study very hard. We usually finish second or third at county, and often at Kaw Valley too - one year we even took the top four (spots)," she said.
But, Moody was quick to add, even the best speller can draw an exasperating word that leads to elimination.
"There's nothing fair, as I've told my students, about a spelling bee," Moody said. "The word you get is the word you get."