Tonganoxie — The Lansing High girls basketball team has chosen to live and die by the three-point shot this season, but Monday afternoon free throws ultimately saved the Lions.
Freshman Amy Briggs went six-for-six from the charity stripe in the final 29 seconds to ice Lansing's 45-40 victory over Jefferson County West in the first round of the Tonganoxie Invitational Tournament.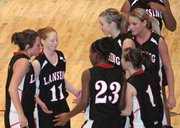 "First of all, good job in the fourth quarter making free throws," LHS coach Keith Andrews said. "Amy was huge, but some other people made a couple and kept us afloat there."
The abundance of free throws was a rarity for Lansing. It has shot so many three-pointers this season that its opportunities to draw fouls have been limited. Of course, the Lions hardly shied away from long-range shots against the Tigers. Instead, they fired their highest trey tally of the season with a six-for-28 effort from beyond the arc.
At times the three-point shooting was a blessing. Other times it was a self-inflicted wound.
"That was a good example of you live by the three, you die by the three," Andrews said. "We're still going to shoot them, but we need to be a little bit more patient."
Patience has been the common thread when Lansing's three-pointers have been falling, and a lack of it has been evident during the Lions' coldest shooting spells. Junior Katie Nietzke gave them an early 3-0 lead when she buried a trey just 25 seconds into the game. They missed their next four threes, however, and the Tigers built a 9-7 lead.
Brittney Lang and Briggs swished back-to-back three-pointers and gave LHS a 13-11 lead after the first quarter.
Photo Gallery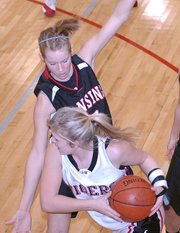 Although the outside shots wouldn't fall in the second quarter, Lansing smothered Jeff West with a full-court press and stifling man-to-man defense. At one point LHS forced five straight turnovers and eventually built a 23-14 lead. Then a series of forced three-pointers in the final minutes of the half took the Lions out of their offensive rhythm and their lead dissolved into a 23-23 tie by intermission.
"When we created the turnovers it made them very, very tired," said junior Amanda Darrow. "And then with us putting up the shots, we should've made them work more on defense instead of putting them up. That made us even more tired."
Lansing (3-6) missed its first five shots of the second half - three of them three-point tries - and went scoreless for more than three minutes while Jeff West built a 27-23 lead.
With the momentum fully in the Tigers' favor, the Lions regained their outside touch again. Lang ended their scoring drought with a trey, and Briggs added two more. Suddenly the four-point deficit was a 32-29 lead entering the fourth quarter.
Jeff West opened the final quarter on a 6-2 run and reclaimed the lead, but Lansing responded with a baseline jumper by Nietzke. A layup by Lang and a free throw from Nietzke gave LHS a 39-36 lead with 59 seconds left, but Jeff West again pulled within a point on a pair of free throws.
The Tigers (3-6) fouled Briggs three times in a row in hopes that the freshman would misfire from the free throw line, but she sealed the victory by swishing six straight charities.
"The first two I was scared," Briggs admitted. "Then I just got in my routine."
Lang scored a game-high 15 points for Lansing and Briggs added 14. Both players also had a game-high five steals. Nietzke scored eight points and grabbed six rebounds. Morgan Chiles scored four points and Abbey Lozenski and Darrow chipped in two apiece. Nichelle Palmateer and Marcia Beecham led Jeff West with eight points apiece.
LHS won despite shooting just 27.6 percent from the field. Jeff West made 37.8 percent of its field goals but turned the ball over 24 times. Those turnovers led to 16 points for the Lions.
Lansing will make its first appearance in the winner's bracket of the Tonganoxie Invitational at 3 p.m. Friday against Eudora. EHS rallied for a 56-52 victory over Atchison in Monday's other first-round game.