Flynn wins a 'classic'
Lansing High junior topples two No. 1-ranked opponents to claim Bobcat Classic title
Basehor — If the match hadn't taken place in January, it would've been easy to mistake the 145-pound championship Saturday at the Bobcat Classic for being a showdown in the state finals.
It certainly had that feel.
The crowd at Basehor-Linwood High School rose to its feet and roared as Lansing High junior Nick Flynn and St. Thomas Aquinas senior Mark Millstead rolled, twisted and tumbled for six minutes of regulation, two one-minute overtime periods and a 30-second sudden-death before Flynn claimed a 5-4 victory.
Photo Gallery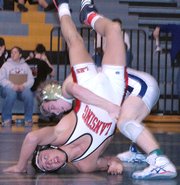 Bobcat Classic
When the final whistle blew on what was arguably the most spirited match of the tournament, the Aquinas faithful flooded the gym with boos while the rest of the crowd thundered with approval.
An exhausted Flynn shook the Aquinas coaches' hands, then walked to LHS coaches Ron Averill, Scott Terron and Lee Matzeder and collapsed into their arms. Flynn, ranked fifth in Kansas in Class 5A, had just completed what many believed to be an impossible task: he took down two No. 1-ranked wrestlers and won the Bobcat Classic.
Millstead was ranked No. 1 in Class 5A and Jon Arveson, Flynn's semifinal opponent, was ranked No. 1 in Class 4A.
"It was tough, and if it would've been on paper or anything I don't think I could have done it," Flynn said. "It felt good to know that I could push myself that far and my partners in practice have pushed me that far, so I've got to give credit to the practice partners that have helped me go all the way."
Flynn specifically mentioned teammate Kyle Buehler - who defeated Millstead in the 135-pound state finals last year - as one of those practice partners.
LHS coach Ron Averill said he'd never seen Flynn wrestle as good as he did Friday and Saturday.
'I think he's taken a lot of confidence in the fact that as long as he can keep a match close, he can be in it with anybody," Averill said. "And he's following through on his shots a little better. In the past he's done a lot of good things, but he hasn't always followed through. We've worked on his hop position a little bit, and he's really cleaned that up. That's why Millstead wasn't able to score on him later in the match."
Neither wrestler scored in the first period, but Millstead took a 1-0 lead with 1:15 left in the second period on an escape. Flynn scored two points on a reversal late in the period, but Millstead reclaimed a 3-2 lead seconds later with a reversal. Flynn tied the match with an escape point with 1:18 left in the third period. That forced overtime.
After a scoreless first overtime period, each wrestler tallied a point in the final eight seconds of the second extra period. That forced sudden-death. Millstead started in the down position and had 30 seconds to break free. Flynn had 30 seconds to hold Millstead down. The STA senior was unable to break free, so Flynn was crowned the winner.
"Millstead has been a competitor for my brother, Buehler and now me," Flynn said. "To be seeing him now is just a heads-up to the state tournament and I can't wait."
Considering both Flynn and Millstead are in 5A, it's possible that Saturday's showdown could've been a preview of the state finals. Averill said that is a realistic possibility.
"With the win he had in the semifinals and now this, a state championship isn't any bigger than what he's done here," Averill said. "There's nothing out of the realm of reality for him."
Flynn's record now is 22-3 this season.
Buehler placed third at 140 pounds and junior Dennis Wood finished third at 103 pounds. Both wrestlers lost semifinal matches to wrestlers they'd previously defeated this season, but they bounced back to win two more matches apiece.
"I think the greater thing for them was the way they came back and competed after they lost," Averill said. "It says a lot about their integrity and character."
Wood said it was frustrating to lose his first match of the season, but he said he would learn from it.
"It showed me what I did wrong and what I need to work on now," he said. "It makes me mad that I lost, but I'd rather have it now than later in the year."
Lansing next competes at 9 a.m. Saturday at the Holton Invitational.