Lansing native Fardelmann garners hockey honors at
BC
A Lansing native continues to make her mark on the college hockey scene.
Meghan Fardelmann, a sophomore forward on the Boston College women's ice hockey team, was recognized Tuesday as the Hockey East Player of the Week. She earned that honor after notching five goals and four assists while leading the eighth-ranked Eagles to a 3-0 record last week.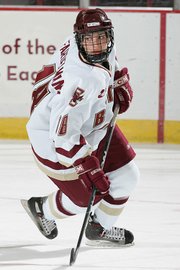 Fardelmann sparked her three-game streak of multi-point games last Tuesday at home against Northeastern by netting two goals in less than two minutes at the start of the second period. Boston College ultimately won 4-1. She later tallied three goals and four assists in BC's 7-0 and 5-0 victories shutouts of Vermont.
The honor was the first this season for Fardelmann, whose scoring surge was even more surprising considering it came shortly after returning from her second separated shoulder injury of the season. She is fourth on the team in scoring with 14 goals and seven assists.
Boston College is 15-5-2 overall this season and tied for first in the Hockey East with an 8-3 conference mark.
Fardelmann logged nine goals and 10 assists during her freshman season at Boston College.
Prior to attending BC, Fardelmann attended high school and played hockey at the Culver Academies in Culver, Ind. She attended the Lake Placid national festival three times, participated in the Rochester national festival and was a member of the Wisconsin Wild under-19 team. In addition to hockey, she also was an all-conference soccer player and All-American lacrosse player at Culver.
She is the daughter of Lansing residents Charles and Robin Fardelmann.