LHS

National Honor Society welcomes 27 new members at

LHS
Meet the newest class of scholars inducted into the National Honor Society at Lansing High School.
They dream of becoming civil engineers, video producers, doctors, fashion designers, counselors and Christian missionaries.
Several of them play music and sports. Others volunteer, write, sew, sing, read "Harry Potter" books, cook, travel and participate in school clubs.
Photo Gallery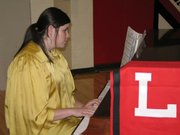 2006-'07 National Honor Society induction
Twenty-seven new members were inducted into the National Honor Society at Lansing High School during a ceremony Thursday, Jan. 11, at the LHS gym.
Their interests and future plans vary, but the 27 new members joined active NHS members Thursday, Jan. 11, and pledged a shared commitment to scholarship, service, leadership and character.
"It is 24/7 membership," faculty sponsor Mary Alice Schroeger said after the ceremony. It doesn't end when the students leave the high school, so they have a lot of responsibility as far as behavior and character.
"They have to be academic leaders as well as social leaders, service leaders in this school."
LHS principal Steve Dike welcomed honorees and their family members to the ceremony in the LHS gym and offered congratulations to both groups.
"This is but one of many payoffs that you're going to receive," Dike told students. "I would also like to congratulate the parents who have worked extremely hard to see to it that these young people can attain the honors and reach the goals that they have set for themselves."
With pomp and circumstance, active members - students in their second or third year of membership who wear yellow robes - welcomed new NHS members by inviting them to sign the membership book.
NHS officers also presented certificates, cards and patches to the inductees and encouraged them to continue seeking knowledge, helping others, assuming leadership and demonstrating good character.
After being introduced, each new member gave a short speech that revealed his or her interests and career aspirations and offered audience members a glimpse of that student's personality.
Junior Hal Laurence told the crowd about his passions.
"I have interests in the areas of speech and debate, scholar's bowl, forensics, speech and debate, Rubik's cubes : I think I mentioned speech and debate," he said.
Active NHS members also received pins during the ceremony.
Schroeger said members are selected by a faculty council made up of LHS teachers.
Applicants present the council with a cover letter and a resume that includes academics, awards, hobbies and service and leadership activities.
"The faculty rates each student. We do some number crunching. And we look and we see who is the crÃme of the crÃme," Schroeger said.
Members must maintain a 3.5 cumulative grade-point average throughout their high school career.
The number of inductees this year - 27 - increased by six members over last year's class.
"This was a huge group that went through the process. That says something about the ability of our students at Lansing High School to achieve, and to lead and to serve, and to just be good people," Schroeger said.