Mayor keeps the focus on streets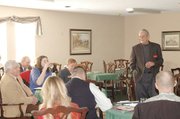 When Mayor Kenneth Bernard considers the impact Lansing's growth will have on local small businesses, one area takes priority: roads.
Bernard, speaking to entrepreneurs and business managers at the Lansing Business After Hours meeting on Tuesday, Jan. 16, said that of all the projects around town, it was clear that roads and road construction tended to affect small businesses most.
"Anything that moves traffic is big," Bernard said.
Several dozen members attended the meeting, which was the first of the group's new schedule. The group is transitioning to twice-quarterly meetings, and will hold every other meeting during the noon hour to encourage attendance by those who couldn't make the early-evening meetings.
Bernard outlined many of the projects under way around Lansing - and a few that were still on the drawing board. He said he was thrilled that construction on Main Street had been going more smoothly than anyone had imagined it would.
"Main Street has been a pleasant surprise to most of us. It hasn't caused the disruption we expected," he said.
Bernard also said that if the current construction pace continues, he had no doubts the project would be completed before its deadline. He said that because construction had long since surpassed its goals for last year, it was possible that Main Street construction would be completed in 2007.
"I think we're going to be done before the winter," Bernard said.
Other projects Bernard mentioned were the expansion of the Lansing Community Library, the extension to Bittersweet Road and the widening of De Soto Road. Bernard also noted the planned K-7 Corridor project, an up-and-coming project aiming to convert Kansas Highway 7 to a freeway from Olathe to Leavenworth.
The project's massive scope and timetable even drew a touch of humor from the mayor.
"It's a project to look forward to. Some of the younger people in the room might even see the project completed," Bernard said. "It's a 20-year project, with an estimated cost over $1 billion."
After Hours members also heard a presentation from Col. Timothy A. Weathersbee, Fort Leavenworth garrison commander, about projects on base and how the budget for the fort - which tops $1.7 billion - was allocated.
Because of the size of its economic footprint, Fort Leavenworth can have a tremendous impact on the surrounding communities, Weathersbee said.
Costs for currently planned construction were around $608 million, he said.
Weathersbee noted that base projects, including the new Lewis and Clark Center, a $115 million dollar educational facility, and a Joint Regional Correctional Facility, which will consolidate several detention facilities from around the country at Fort Leavenworth, signify progress for the fort and also have an economic impact off the base.
"Any of these large construction projects have a great potential to bring jobs to the community," Weathersbee said.