Tonganoxie — The two-game winning streak is gone, but the Lansing High boys basketball team has its sights set on another one.
The streak LHS now has in mind would include victories at 4:30 p.m. today against Silver Lake in the consolation semifinals of the Tonganoxie Invitational Tournament and another win at 11:30 a.m. Saturday in the tournament finale.
Lansing is in the consolation bracket because its upset bid against Atchison, the No. 5-ranked team in Class 4A, fell just short in a 46-39 setback on Monday afternoon.
Photo Gallery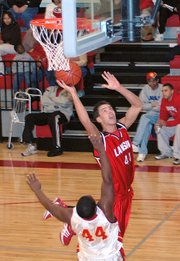 First-year coach Rod Briggs said he is curious to see how his team responds to the narrow defeat.
"I think we'll find that answer at the end of the week," he said. "If we can go out of this tournament 2-1 and be 4-2 since Christmas, I think that'll be telling me if we get it or not. If we drop a game during the next two games to somebody that's probably not as good as we are, then that's going to tell me we took a step backwards, but I really am pretty confident that we'll take steps forward.
Lansing (2-7) took two leaps forward when it shook off a six-game losing streak and earned back-to-back victories over Santa Fe Trail and Turner prior to playing Atchison. Those victories, along with the Monday loss, came while LHS had a thin roster. Junior forward Stephen Didde has missed two of the last four games with an illness, and junior guard Chris Hill played barely two minutes against Atchison because he was sick.
"We haven't played with our full complement of players yet, as far as being healthy," Briggs said.
Although Lansing had limited depth again Monday, it didn't use that as an excuse to fold against a speedy Atchison squad. Instead, LHS dictated the tempo and forced the game to be played at a crawl.
"In my mind I was thinking if we get up and down, they might score 80 on us," Briggs said. "What we're finding out is we're doing a pretty good job of keeping the tempo down and defending fairly well."
The Lions trailed 9-4 after the first quarter and pulled to within a point early in the second stanza when Cody Rush scored on a put-back and Will Johnson knocked down a 16-foot jumper. They turned the ball over on three straight possessions, however, and the Redmen capitalized by closing the half on a 7-3 run.
Down five at the break, Lansing slugged its way back into the game on two baskets from Didde and senior Jeff Jackson and a layup by sophomore Clayton Hall. A baseline jumper by Johnson put LHS ahead 23-21 with 3:17 left in the quarter. Atchison responded by scoring on back-to-back possessions, but each time Rush answered with a bucket for the Lions.
"I thought I had to step it up since Stephen's been sick," said the 6-foot-6 Rush. "Coach Briggs and coach (Ben) Doll have been on me about being stronger, so I just started getting stronger in practice and it worked."
Lansing took a 27-26 lead into the fourth quarter, but it wouldn't stand. Atchison took a brief lead, but Didde tied the game at 31-31 when he knocked down a runner in the lane with 5:25 remaining. The Redmen led by just four points with 48 seconds to go, but they made three of five free throws down the stretch to seal the victory.
Anthony Downing led Atchison with 15 points. Jackson and Rush led Lansing with eight apiece. Rush also grabbed a game-high seven rebounds.
"Between Jeff and (Rush), they gave us 16 points tonight from one position," Briggs said. "I may have to start playing them together to get Cody some more minutes, which means we're going to have to take some minutes from somebody else, but we've got some opportunities in the post."
The Lions sense that opportunities exist to win more games, too. Rush said they gained a lot of confidence from going wire-to-wire with the Redmen.
"They're probably the best team in this tournament, so that just shows that if we can hang with them then we can hang with a lot of other people," he said.