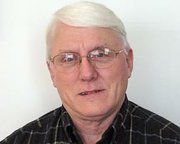 When Jim Pittman moved to Lansing in 1991, it didn't take him long to get involved.
He had just retired from the military, and when he was offered a position working with a local defense contractor, he thought it was the perfect opportunity. It was a chance to settle down in the city he loved.
"We were excited when I got a job opportunity here," Pittman said. "We really found a lot of friends."
In 1999, Pittman found an opportunity to use his skills in industrial engineering and technical planning to help develop the community that had quickly become home.
"Since I'd moved back to Lansing in '91 I had been looking for an opportunity to get more involved in the community," he said. "There was a vacancy on the planning commission. I knew I had the right set of skills to be able to do that job."
When he joined, the commission was working on revamping the city's comprehensive plan, which Pittman said he was particularly proud of.
"I think we did a superb job on it, I think we've got an excellent comprehensive plan - one of the best that I've seen of all the ones that I've reviewed from other communities."
And with growth in Lansing booming, it's been an exciting - and busy - ride for Pittman since 1999. He said all the hours required updating the comprehensive plan and monitoring progress have been a small price to pay to help Lansing grow.
"You know, we've had remarkable growth and it's kept us very busy," Pittman said. "It's a challenging job but at the same time it's a very rewarding and satisfying job to be able to work with these folks and to have a hand in the growth of our community."
Name: Jim Pittman
Address: 123 Willow Dr.
Occupation: Defense contractor
Graduate of: United States Military Academy, Georgia Institute of Technology, Command and General Staff College, Air War College
Family: Marilyn, wife; Cheryl, daughter; Douglas and Jeffrey, sons; eight grandchildren.
How long have you lived in Lansing and what brought you here? Since 1991, after receiving a job in the area.
What do you like most about Lansing? "The people in this area are just great. You can't live here without having a deep appreciation for the friendliness and the helpfulness and the neighborhood environment that exists here in this little town. It's just a great place to live."
What do you do for fun? "I have twin granddaughters that live up in Atchison and they're 3 years old, and they're fun for any granddad. I also spend a lot of time in my yard and do a little gardening. Yard work is my therapy."
What would surprise people about you? "I used to be extremely shy, that would probably surprise most people."
What's the best advice you've ever received? "My dad used to say, 'Work hard, and be honest in everything you do.'"
What organizations or clubs do you belong to? City of Lansing Planning Commission, chairman; Fort Leavenworth area Military Retiree Council, chairman; Military Officers Association, officer; Member of the Association of the U.S. Army.