Lansing boys stun Silver Lake
Beall's last-second trey caps wild finish in 41-40 victory
Tonganoxie — Curtis Beall's three-pointer with a half-second left on the clock capped a stunning comeback for the Lansing High boys basketball team on Thursday afternoon.
Although Lansing's 41-40 victory over Silver Lake in the consolation semifinals of the Tonganoxie Invitational Tournament may have been improbable, it also was unnecessary. The Lions buried themselves during the first half with sloppy passes, poor shooting (four-for-18) and dreadful free throw shooting (four-for-11).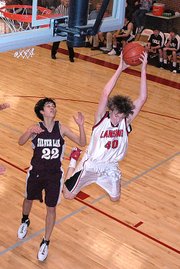 "We weren't ready to play," first-year LHS coach Rod Briggs said. "I could tell when we got on the bus today that we were probably going to be struggling. As a coach you try everything you can to motivate, but we weren't really all that motivated to begin with."
Despite the lack of focus, they still hung around for a while and held an 11-10 lead early in the second quarter. After that, the Eagles closed the half with an 11-2 run and took a 21-13 lead into the break.
"Coach woke us up at halftime," Beall said. "He started yelling, but then he didn't. He said 'I'm not going to yell, because we should beat this team. If we just come out in the second half and play hard, we should win.'"
The Lions (3-7) brought more energy to the court in the third quarter, but the climb out of the hole was tougher than expected. They went scoreless for the first 3 1/2 minutes of the third quarter while the Eagles doubled up the score at 26-13. Jeff Jackson's driving layup finally snapped the scoring drought. That bucket also sparked what ultimately would be a 15-2 run during the next seven minutes. Included in that run were back-to-back three-pointers by Beall at the end of the third quarter, two free throws by Cody Rush and a put-back by Will Johnson that tied the game at 28-28.
"To make a run like that is big," Briggs said. "I didn't even realize it was 15-2. We scored more points in that little stretch than we did the whole first half."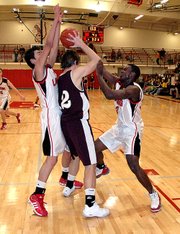 A key component to stalling Silver Lake's offense was Lansing's ability to slow down guard Marty Pfannenstiel. Both a scorer and distributor, he made the Eagles' offense go. In the third quarter the Lions figured out how to slow him down.
"Chris Hill and Kevin Johnson did a good job of stopping No. 12 (Pfannenstiel)," Beall said. "He's their best player."
Silver Lake eventually rediscovered its stride on offense. It made a 9-4 run and reclaimed a five-point lead. The teams then traded baskets and free throws for the next few minutes. The Eagles' lead was 39-34 with 1:07 left in the game.
Clayton Hall scored on a reverse layup with 59 seconds left that was the first step in Lansing's final kick. Johnson forced a turnover on the ensuing possession, but LHS was unable to score. Hill then was whistled for a foul. Silver Lake's Josh Baden made the first free throw but missed the second. Beall tore down the long rebound, drove to the other end and was fouled. He sank both charities to pull the Lions within 40-38 with 14.3 seconds left.
Hill and Beall double-teamed Pfannenstiel on the ensuing inbounds pass and forced him to make a bad decision. An errant pass was picked off by Hall. Lansing then called timeout with 8.5 seconds left and drew up a play.
Johnson inbounded to Beall. The sophomore point guard dribbled to the right, started to drive to the lane and then stepped back for a three. It splashed through the next with a half-second on the clock.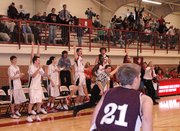 "Jeff set the screen, and my guy went underneath the screen instead of going over the top," Beall said. "That's what left me open, and his guy didn't help so I had the three wide open."
After a timeout, Silver Lake only mustered a half-court hail mary shot that clipped off the rim.
Although Briggs wasn't pleased with his squad's first-half effort, he was thrilled with the way it finished the game.
"We showed a lot of determination, especially the last couple of minutes," he said.
Beall led LHS with 14 points, Jackson and Hall had seven, Will Johnson scored six, Kevin Johnson had five and Rush scored two.
Lansing won despite shooting just 29.2 percent from the field. Silver Lake made 37.8 percent of its shots. The difference was that Lansing grabbed 23 offensive rebounds. Beall had five of those offensive boards and Hall had four. The offensive rebounds led to 13 second chance points.
Lansing has won three of its last four games. It next plays at 11:30 a.m. Saturday against Jefferson County West in the fifth-place game at Tonganoxie High School.