Lansing girls fall to Tongie in finals
LHS

boys get defensive in blowout of Jeff West
Tonganoxie — For three-plus quarters Saturday night the Lansing High girls matched rival Tonganoxie blow for blow in the championship game of the Tonganoxie Invitational girls basketball tournament.
Photo Gallery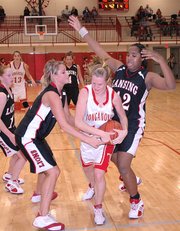 Tonganoxie girls top Lansing for tourney title
Brittney Lang's layup early in the fourth quarter gave LHS a one-point lead, but Tongie closed the game on a 17-3 run during the final 7:05 and claimed a 50-37 victory.
The loss snapped Lansing's three-game winning streak and dropped their record to 4-7. Tongie improved to 11-0 and successfully defended its No. 1 state ranking in Class 4A.
The trip to the finals was the first ever for the Lions. It also was their first appearance in the winner's bracket at the tournament.
Turnovers and rebounding were Lansing's biggest ailments in the championship game as it gave the ball away 22 times and was outrebounded 48-32. Tonganoxie had 20 offensive rebounds. Meanwhile, LHS held THS to just 33 percent shooting.
The Chieftains led 8-4 after the first quarter and 22-17 at halftime. Lang, Amy Briggs and Katie Nietzke each drilled a three-pointer in the third quarter as the Lions closed to within 33-32.
Lang's layup on the first possession of the fourth quarter gave Lansing a 34-33 lead before Tongie pulled away for the win.
Lang and Briggs both earned All-Tournament Team honors for LHS.
Lang led the Lions with 11 points, Briggs had eight, Amanda Darrow scored six and Nietzke added five. Ali Pistora led the Chieftains with 10 points, 16 rebounds and four steals.
Lansing boys 49, Jeff West 33
Photo Gallery
Lansing boys beat Jeff West for fifth place
Defense was the key for the Lansing High boys in the fifth-place game of the Tonganoxie Invitational Tournament.
Lansing held Jeff West without a field goal for the final 12:07 of the game. The Lions also outscored the Tigers 22-8 during that span while rolling to a 16-point victory.
Senior Jeff Jackson led LHS with a game-high 16 points. He also had seven rebounds. Sophomore Curtis Beall added 12 points in the win. Junior Bobby Hauver provided the biggest boost off the bench by contributing six points, eight rebounds and three steals.
Lansing (4-7) has won five of its last six games.
For more on the final boys and girls games of the Tonganoxie Invitational Tournament, pick up the Jan. 25 edition of The Current.