Lansing students to jump rope for charity's efforts
An upcoming physical education unit will give Lansing youngsters an opportunity to earn prizes while they raise awareness and money to fight heart disease.
Students at Lansing Elementary and Intermediate schools will participate in the American Heart Association's Jump Rope for Heart event Feb. 5 to 9, and some already have begun collecting donations for the cause.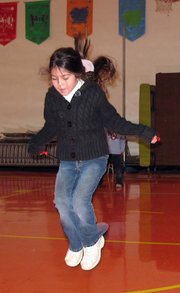 LES physical education teacher Cheryl Orlowski said this is the 19th year Lansing students have participated in the event. Participating schools earn gift certificates to purchase recreational equipment.
"That's not the main reason we do it though," Orlowski said. "The American Heart Association is a good cause. I had a father - that's not what he died from - but he had a defibrillator and a heart pacemaker and he had had heart surgery, so it falls into a thing that I care about and it goes for the research."
The heart association cites heart disease as the No. 1 cause of death among Americans and stroke as the third-highest killer and a leading cause of serious disabilities.
Among young people, cardiovascular disease ranks as the No. 2 cause of death for children under 15, according to the association.
"It increases their physical fitness and their heart rates," Orlowski said, referring to the benefits students learn from the jump-rope unit. "It gives them a lifetime-type activity that they can use all through their lifetime."
Jump Rope for Heart will take place during physical education classes.
At LES, Orlowski and fellow physical education teacher Lee Matzeder will work on basic rhythm and jumping with kindergartners and first-graders.
Second- and third-graders will partake in more complicated moves and chants such as "Cinderella Dressed in Yellow" and "Grace, Grace Dressed in Lace." Some will learn stunts.
"They like doing the stunts and the chants. They really get into the chants," Matzeder said. "They kind of giggle and laugh, but they like it."
Orlowski said students were not required to collect donations.
"It gives the students an opportunity to do a service project for their community. If they raise money, they can earn a prize if they want, that's their choice," she said.
Prizes are awarded based on the amount individual students collect. Those include a water bottle, a jump rope, a T-shirt, an air hockey game and a scooter.
In addition, Orlowski said, the schools earn a $100 gift certificate for every $1,500 in donations.
Last year, LES used gift certificates to purchase a mat mover and potato sacks for field day. This year, Orlowski said, the school likely will purchase hopscotch mats.
Orlowski said Jump Rope for Heart had enjoyed a successful tenure in the Lansing schools. During the schools' inaugural campaign, LES and LIS raised $10,000 for the heart association.
Last year, the schools raised $5,100, she said.
"This community has been just great with donations. They've always been very supportive of the Jump Rope for Heart event," Orlowski said.