Second … but not satisfied
Lions not celebrating close loss to No. 1 Chieftains
Tonganoxie — Last month after the Lansing High girls basketball team's late rally against Tonganoxie fell two points short, the Lions were all smiles.
After all, Tonganoxie was ranked No. 1 in the state in Class 4A, and with a 1-4 record at the time, Lansing was looking for a reason to believe it was getting better. This game seemed like proof.
Fast forward to Saturday night when Lansing and Tongie met in the finals of the Tonganoxie Invitational girls basketball tournament. Undefeated THS still held its No. 1 ranking, but LHS entered with a three-game winning streak.
Photo Gallery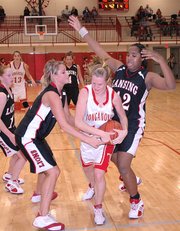 Tonganoxie girls top Lansing for tourney title
Brittney Lang's layup early in the fourth quarter gave Lansing a one-point lead before Tongie closed with a flurry and won, 50-37.
Another strong showing against the top-ranked Chieftains ended in a loss. This time, however, the Lions weren't smiling.
"The first time we were excited that we were only down by two," Lang said. "But this time it actually hurts."
Lansing entered the tournament having never been to the winner's bracket before. The goal was simply to advance to the title game. Once there, the Lions reassessed their goal. They believed they could win, and for three-plus quarters they played like it.
"We knew we could come out and give them a fair fight and show them that we are better than they think we are," said junior Amanda Darrow.
Lansing (4-7) used a full-court trap and tough man-to-man defense to give Tongie some early fits. LHS led 3-2 after the first four minutes, but it trailed 8-4 at the end of the first quarter as a result of seven turnovers.
The Chieftains (12-0) built a 22-12 lead late in the second quarter, but a 10-foot jumper by Darrow and a three-pointer by freshman Amy Briggs trimmed the deficit to five by halftime.
After trading baskets for most of the third quarter, back-to-back three-pointers by Briggs and Lang sent LHS into the final period trailing 33-32. Lang's layup on the first possession of the fourth quarter put the Lions on top and brought the packed gym to a boil.
It was at that point that Lansing's youth and inexperience showed its head and Tonganoxie's veteran poise took over. The Chieftains struck back with a 10-0 run that was sparked by a jumper from senior Rachel Bogard and an 18-footer from the top of the key by senior Ali Pistora. The Lions turned the ball over on three straight possessions during that run. By the time they recovered it was too late.
Lang led Lansing with 11 points, followed by Briggs with eight, Darrow with six, Katie Nietzke with five, Christine Cordes with three, and Morgan Chiles and Alexis Ellis with two. Pistora led Tonganoxie with 10 points, 16 rebounds and four steals.
Lang and Briggs earned All-Tournament Team honors. Pistora was the tournament Most Valuable Player.
Although Lansing didn't win the championship, LHS coach Keith Andrews praised his players for showing so much growth during the three-game tournament.
"They gave outstanding effort all three nights, and some of the other coaches told us what a great job we did and how hard the girls played," Andrews said. "We talked about when you're in there, whether it's a minute or two, give productivity, and they did that."
Andrews pointed to key reserves Ellis and freshman Abbey Lozenski as examples of players giving productivity. Ellis had a team-high six rebounds in 11 minutes of playing time. Lozenski played almost seven minutes at guard to spell Nietzke, a regular starter who was recovering from an illness.
Lansing returns to Kaw Valley League action at 6 p.m. Friday at Bonner Springs.