Silo artist eyes second coat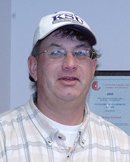 People always seem to think Steve Buffo is a Kansas State University fan. But can you blame them? His support is practically a landmark.
But in 1998, when Buffo decided to paint a Wildcat emblem on his silo south of Lansing, he wasn't trying to be territorial - it was more of a passing whim.
"I had to make sure my dad was out of town - my dad and my wife were out of town - before we did that because it was just something that was kind of a spur of the moment kind of deal," Buffo said.
Buffo's family did have a tradition of a K-State fandom, and painting the silo was an idea that had come from a trip to Manhattan for a football game. But it wasn't a sign of exclusivity.
"It was just something we wanted to do for fun and show our support for the state of Kansas," Buffo said.
After all, Buffo spends much of his time devoted to an animal other than a wildcat. For the past few years, Buffo and his sons have been raising and breeding Gelbvieh cattle. and besides providing a chance for his sons to participate in 4-H, Buffo enjoys the discipline that raising cattle instills.
"It's a lot of fun," Buffo said. "But I think I get my biggest kick out of it seeing the boys learn the responsibilities of care and that sort of stuff :
"Especially in the summertime, you're probably talking four to six hours a day, every day until fair."
And in addition to helping his boys look after the cattle, Buffo also will tend to the Wildcat on the silo. It's one animal he's sure is going to stick around.
"Some people would rather see a Jayhawk or something, but I don't think so," Buffo said. "Hopefully this summer I will probably give it a fresh coat of paint."
Name:Steve Buffo
Address: 2343 Cambridge St.
Occupation: Self-employed home-improvement contractor
Graduate of: Fort Hays State University, 1985
Family: Anna, wife; Cole, 15, Logan, 5, sons; Maggie, Rusty and Ebby, dogs.
How long have you lived in Lansing and what brought you here? Lansing native. Parents moved here around 1947; father worked at the Veterans Administration.
What do you like most about Lansing? "The diversity. There's all types of people, there's not just one. It's not just a rural town but you've got a complete mix."
What do you do for fun? "I shouldn't say this but I've coached in the Leavenworth Summer Rec Leagues for the past eight years. The biggest thing that we like to do for fun is go to the beef shows - the spring beef shows - and the Junior Nationals."
What would surprise people about you? "That I actually like to watch a KU basketball game."
What's the best advice you've ever received? "If you're going to do something, do it the best you can."
What organizations or clubs do you belong to? "I'm on the Leavenworth County Farm Bureau board of directors, I've been president of that for the past two years. I'm heavily involved in 4-H, both on the club and as far as the fair week as far as being a volunteer. I'm a woodworking leader and I assist as a beef leader."