Nietzke regains health, shot in
LHS

victory
Lansing boys topple Bonner Springs for fifth win in last six games
Bonner Springs — Katie Nietzke is healthy again. No doubt about it.
Nietzke, a Lansing High junior guard, spent most of last week sick with the flu. The illness took its toll on her shot, and it even forced her to miss a game.
Friday night at Bonner Springs, however, her health was back in order and so was her shot. Nietzke scored a career-high 23 points and led Lansing to a 52-48 victory.
"I don't think I've scored that much since middle school," Nietzke said with a laugh. "This has been a good week. Every night I've stayed after practice getting my shot back and getting my energy back. I was really dying last weekend, but I came out and got my shoulders square, I worked on my follow through and it just went through tonight."
Nietzke asserted herself into the offense early, and that was a good thing. The Lions lagged on defense during the first six minutes and they lacked a spark. The result was a 16-6 deficit.
"We were running out and jumping at people and they'd drive the lane and get a layup," Andrews said. "We've just got to be smarter defensively."
That was the topic of discussion during a timeout, and after that the Lions caught fire. Nietzke swished a three-pointer and banked in a runner to pull the Lions within five by the end of the quarter.
Lansing's hot streak continued in the second quarter as Nietzke buried a 17-foot jumper, Chanel Johnson made a layup, Nietzke sank two free throws, Amanda Darrow sank an 18-footer and Elizabeth Cristiano made a free throw. Suddenly the 10-point deficit was a 20-18 lead.
Bonner answered with five unanswered points, and then the teams traded baskets to end the half. A layup by Brittney Lang with 12 seconds left pulled LHS within 30-28.
Nietzke had 14 points by halftime, but Bonner was riding high on the offensive output of Felisha Leipard (12 first-half points) and Christine Delladio (11 first-half points).
"I told the girls at halftime that what we're doing is not good enough," Nietzke said. "I said, 'We have to get mad. We have to take it personal.' That's kind of the way I look at it. I love those (Bonner Springs) girls to death. They're my really good friends (and summer league teammates), but when I come to them in the season it's just like playing them in the driveway. It's personal."
Lansing (5-7) regained the lead on the first possession of the third quarter when Lang splashed home a three-pointer from the corner. The Lions never trailed again.
Nietzke sank a free throw and then converted a four-point play that boosted the LHS lead to 36-30. A trey by Lang and another three-pointer by Nietzke pushed the lead to double-digits at 42-32 with 3:48 left in the quarter.
The Lions' comfortable lead didn't last long. They went cold from the field and the Bravettes heated up.
A 14-6 run during the next nine minutes pulled Bonner within 48-46 with 2:33 left. During that stretch Lansing's only relief came from Alexis Ellis. The sophomore forward scored five of the Lions' points during that time.
"Alexis Ellis was huge at the end," Andrews said. "She had some nice put-backs, some rebounds and some free throws. She played real well."
Bonner was forced to foul during the final minute, but freshman Amy Briggs sank two free throws and Nietzke and Ellis added one each to preserve the victory.
Nietzke's hot hand was the difference on the scoreboard, but the behind-the-scenes story was the defensive job the Lions did in containing Delladio and Leipard in the second half. The duo combined for 23 first-half points but accounted for just 10 in the second half. Delladio finished with 19 points, but she had none in the fourth quarter. Leipard finished with 14.
The credit for containing Dealladio goes to Ellis, Elizabeth Cristiano, Christine Cordes and Kara Ritchey. All four spent time guarding Bonner's 6-foot-1 forward. Meanwhile, Nietzke and Briggs shadowed Leipard for most of the game.
Nine different Lions scored against Bonner. In addition to Nietzke's big game, Lang had 12 points, followed by Ellis with six and Briggs with three. Amanda Darrow, Cordes and Johnson scored two points apiece and Cristiano and Morgan Chiles each had one. Chiles had a team-high seven rebounds and Lang had five. Lang also had four steals.
The balanced performance was a far cry from the last time Lansing played at the Bonner Springs YMCA. That was back in December at the Bonner Springs Metro Prep Tipoff Classic when the Lions were disoriented and full of doubt.
Now winners in four of their last five games, the Lions are a confident bunch.
"We're a totally different team than we were down here earlier," Andrews said. "We might not be as good record-wise as we were last year, but I expected a little run and we're getting on one now. Maybe we can win three or four more and stretch it out. That's the game plan."
Lansing next plays at 6 p.m. Tuesday at home against Piper.
Lansing boys 50, Bonner Springs 43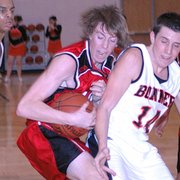 The Lansing High boys basketball team didn't give up chocolate for New Year's or vow to lose weight.
Instead, the Lions promised to forget.
Forget the past, that is. Forget going 0-5 in December. Forget what the critics said about them.
So far in 2007 the Lions have been true to their word. They now are 5-7 overall, but 5-2 in the new year and winners of five of their last six games. Their latest victory came Friday night when they defeated the Bonner Springs Braves, 50-43, at the Bonner Springs YMCA.
"We made a New Year's resolution that we were putting Christmas behind us, and the kids were mentally able to do that," first-year LHS coach Rod Briggs said. "We played some teams that we could beat and we got some confidence, and now we're starting to beat some teams that are decent and we're coming along real well."
Lansing was in control from the very beginning. It forced a slower pace and patiently beat Bonner's press. LHS made five of its first nine shots and built a 13-6 lead in the first quarter. Will Johnson scored six points during that stretch on two layups and a put-back.
The Braves pulled within 16-12 with 5:36 left in the quarter. Then Stephen Didde scored back-to-back baskets that ignited a 10-2 run to close the half.
Clayton Hall swished a three-pointer from the corner on the first possession of the third quarter to give Lansing a 29-14 lead, but the offense went silent for the rest of the quarter. At the same time, the LHS defense eased up and Bonner roared back into the game. A 10-0 run by the Braves trimmed the Lions' lead to 29-24 with 4:31 left in the quarter before a Cody Rush free throw ended the drought. Rush added a lay-in moments later that pushed the lead back to eight points, but the Lions didn't score for the final 3:30 of the quarter.
"We got that 15-point lead and I think we said, 'Oh, okay,' and then we relaxed a little bit and let up defensively and they came back and made a game of it," Briggs said.
The game was tight throughout the fourth quarter, and at times it seemed the Braves had all of the momentum. The Lions still had the lead, though, and Jeff Jackson made sure they never lost it. The senior forward scored seven points in the final quarter.
Bonner pulled within 33-30 on a three-pointer by Matt Caquelin with 5:52 left, but Jackson answered with a layup at the other end on a nice feed from Hall. Bonner moved back within three on a layup by Chris Callahan, but Didde answered at the other end off another Hall assist. Jackson increased Lansing's lead to 40-32 on the next possession when he converted a three-point play.
The Braves's final push came with a 5-0 run to pull within 40-37, but a free throw by Didde, a put-back by Johnson and a lay-in by Jackson provided additional cushion as the Lions hung on.
"We had a really good first half. I gave it about an A-minus or an A," Briggs said. "And then the second half I gave about a D-plus. A little bit of that was fatigue. The shorter bench had a little bit to do with that."
Lansing only went seven deep Friday night instead of its usual nine-man rotation. Junior Kevin Johnson was unable to play and junior reserve Bobby Hauver was sick.
"We definitely used everyone tonight to the fullest extent," Briggs said. As proof of that, Hall and sophomore point guard Curtis Beall played the entire game.
Jackson led LHS with 11 points, Didde and Will Johnson had 10 apiece, Beall scored eight, Rush had six and Hall added five. Caquelin led Bonner with 12 points, Callahan had 11 and L.T. Lee added 10.
Lansing next plays at 7:30 p.m. Tuesday at home against Piper. The Pirates (10-2) are ranked No. 3 in Kansas Class 4A.
"Next week's going to be a tough week because we play really good teams," Briggs said, noting that LHS also plays Basehor-Linwood on Friday. "We've just got to realize that whatever happens next week doesn't determine how good of a team we are. We've just got to continue improving and keep working because that's hwo we worked through 0-6, we never panicked, so we've got to do that next week and try to get some upsets."