Lansing schoolchildren kicked off birthday celebrations Monday morning in honor of Kansas' 146th birthday.
At Lansing Intermediate School, fourth-graders learned about traditions from the Sunflower State's early days, including quilting, jewelry-making and food preservation. The three-day event also takes fourth-graders on a tour of the Underground Railroad, a network that ran through Kansas and led slaves to freedom.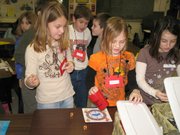 On Jan. 29, 1861, Kansas entered the union a free state after a turbulent period of violence between pro-slavery and anti-slavery forces known as Bleeding Kansas.
To learn more about Lansing schools' Kansas celebrations, check out the Feb. 1 edition of The Current.