Mural meant to soothe unit's patients
Mother's disease inspires work at Senior Behavioral Health Center
Kansas City area artist Cathy Kline likes to create paintings that her clients can relate to and that everyone can enjoy.
One such mural of Kline's has inspired many patients and visitors at St. John Hospital's Senior Behavioral Health Center in Leavenworth.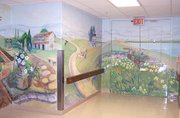 Beth Simpson, the center's director, approached Kline about creating the mural. One of Simpson's staff members had seen a mural of Kline's at a local establishment and recommended that Kline paint a mural for the center, a behavioral unit for people who are 55 and older and who are experiencing emotional or physical changes that affect their behavior, including Alzheimer's disease.
Kline said she was inspired to create the mural because her mother recently died from Alzheimer's.
Kline's mother was a resident at the Garden Terrace in Overland Park, where Kline saw how the atmosphere affected her mother positively. Kline said she wanted patients like her mother to enjoy the peaceful setting the mural creates.
"I wanted to bring the residents peace and joy," Kline said.
Kline's paintings are at other establishments in the area as well. Her murals can be found on display at restaurants in Kansas City and Parkville, Mo.; her "Peach Tree" mural is in the Jazz District at 18th and Vine in Kansas City.
Thus far, Kline has received positive feedback about the mural at the health center.
"As far as we can tell, the patients are enjoying it," said Cindy McGuire, marketing coordinator at St. John Hospital. "It calms them down and adds to the unit and makes it less of a hospital setting."
Center officials have put a chair near the mural to allow patients to sit, relax and enjoy the painted garden and lake.
"I am pleased it has done what they wanted," Kline said.
Because patients at the center "gravitate toward the doors" and try to leave, Kline said she painted the mural to camouflage the doors as a calming landscape. The mural is meant to take the patients minds off where they are and put them in a more calming place.
Kline's son, Brad, a Web designer and portrait artist, assisted her in creating the mural.
"It is not easy to drag him away from his work," Kline said. "It is really fun to give him an idea and come back in a couple of hours to see where he has taken it."
Kline enjoys making different kinds of artwork, creating oil portraits and loves capturing likenesses. Kline also enjoys teaching others how to capture likeness through teaching classes at her art studio, Cathy Kline Art Gallery 'The Great Escape' in Parkville, Mo.
While Kline creates artwork for businesses, she also creates individualized art for people at private residences.
Her work is varied. She has done many Italian based murals, such as the Apian Way and The Boboli Gardens. She has also created nursery paintings.
"The last mural I did was on the third floor of Kristin Cravens' Serendipity Accents in Olathe. This is a mural of her daughter and a sassy dog having tea in a tree house," Kline said.
Kline said she may be asked to create another mural for the St. John's maternity ward. The mural would serve as a focal point for mothers giving birth, she said.
For more information about Kline's art gallery, call (816) 587-6090 or visit her Web site at cathyklineartgallery.com.