Reds almost ready for Zone
Brackets have not yet been set, but the Lansing Reds are slated to begin play in the Class A Zone 1 Baseball Tournament beginning Monday at Wathena City Park.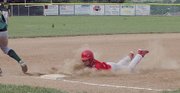 Hiawatha will play host to the five-team tournament, which also includes Wathena, Atchison and the Lawrence Mavericks.
The tournament lineup is a bit different from last year with Horton dropping from the zone and Lawrence being added.
The Reds (4-14) are the defending champions, and about a third of their roster is the same from 2006. They entered last year's tournament with a 4-23 record against a difficult schedule, but they rattled off three straight victories and earned a berth in the state tournament.
A repeat performance will be difficult to pull off now that Lawrence has joined the field. The Mavericks were a state tournament team last year and compiled a 24-13 record.
Prior to zone, the Reds will compete Friday through Sunday at the USSSA State Tournament at the 3&2 Baseball Complex.