Lansing softball players help After
SHOCK

win league title
Three members of the Lansing High softball program have had a busy summer on the local circuit.
LHS juniors McKenna Hall, Mallory Barnhouse and Andrea Shanks helped their summer team, After SHOCK, to an 11-2 record and first-place finish in the league at Mid-America West Sports Complex in Shawnee. The team also posted a 5-5 record in tournament play.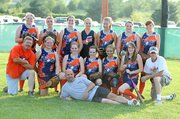 After SHOCK coach Michael Glassford said he was impressed with the heart and passion that his players brought to the field, and he said that was the key component in turning the team around after it posted losing records in previous seasons.
He also said the steady performance of the three Lansing players contributed greatly to the team's success. All three hit .400 or better, and all made major contributions in the field.
"It was nice having some solid sticks in the lineup where you knew you had a .500 chance of getting a hit with any of them up," Glassford said of the Lansing girls. "That's a luxury any coach would love to have in the lineup."
Hall was the team's pitching ace. An effective right-hander on the LHS junior varsity for the past two years, she was called up to the varsity squad for the postseason this spring. Her success continued into the summer as she posted a 15-3 record. She also posted a .457 batting average.
"McKenna threw a lot of one- and two-hitter games all season," Glassford said. "Her key was changing her pitches around. Basically she only throws three pitches for me - the fastball, changeup and drop. She moved those pitches around and kept batters off-balance."
Glassford said Barnhouse was one of the league's top defensive shortstops, and she also swung the bat to the tune of a .500 average with a .596 on-base percentage.
Shanks was the team's utility player, and Glassford said she excelled at a number of positions. In addition, she hit .400 with a .463 on-base percentage.
"The Lansing girls made a huge impact for us this year," Glassford emphasized.
After SHOCK was offered a spot in the national tournament, but the team passed on the opportunity because it already had scheduled a team float trip. That means the next time Glassford will see his players - who come from Lansing, Tonganoxie, Leavenworth, De Soto, Shawnee, Spring Hill and Gardner - play will be during their respective high school seasons. He said he expects to see all of them contribute to their high school programs, including the Lansing players.
"I'm extremely excited," he said. "I think they can be huge contributors to the Lansing High School team if given the chance."