Drivers unfazed by cost of gas
J.C. Tibbetts, a Farm Bureau Insurance representative for Leavenworth County, fills his Chevy Tahoe's gasoline tank about once or twice a week, costing him about $150. And that's just his work vehicle to get him around the county.
"There's a certain amount of gas I'm going to use no matter the price," he said.
In the last few months, gas prices have fluctuated in the $3.00 range, anywhere from $3.30 and more recently, to $3.06.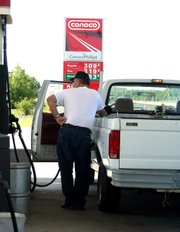 Other Lansing residents, like Tibbetts, however, don't curtail their driving in spite of the prices.
Brian Kraft, owner of Kraft Garage Doors, was filling his personal Dodge truck to make a trip to Des Moines, Iowa this week with his family. He also has another trip planned for Branson, Mo., in two weeks. But it's his business vehicle that's really affecting him, he said.
"I fill up my work vehicle and instead of $50 it's $80," he said. "I have to pass the price on to customers."
Machrina Blasdell said she was expecting prices to be higher by now. Her family drives to Phoenix every summer, she said.
"We have to make plans so far in advance," she said. "We take what we can get."
As Blasdell was filling her Chrysler Pacifica with unleaded gas, $3.06 on Tuesday, she said, "I'm glad to see them coming down."
She used to fill her car with Mid-grade gas, but when prices went up recently she switched to regular, she said.
Terry Rush said he sees the slight decline in gas prices this week as a precursor to a larger jump in the near future.
"They'll go back up to $3.50 to $3.75," he said. "They raise the price by 50 cents then drop it 25 cents to make the customer feel like they're getting a good deal."
According to AAA, the current national average price of regular unleaded gas is $3.14 per gallon and $3.342 for Mid-grade gasoline. Diesel is slightly lower than average. The data reported Diesel's national average at $2.90 per gallon.
According to official energy statistics from the U.S. Government at the Energy Information Administration, gasoline in the Midwest is up 41 cents per gallon from a year ago. Across the nation, gas prices are up 26.5 cents a gallon from 2006. Diesel fuel has seen a decline, however, with a nationwide decrease of 9.1 cents per gallon and in the Midwest it has decreased 7.3 cents per gallon compared with a decrease of 22.8 cents per gallon on the West Coast.
City administrator Mike Smith said current gas prices are in line with what the city budgeted for last year, near the $3.50 range.
"We're seeing a little increase as far as what the departments are using, but we're not that far off from what's projected from last year," he said. "Are they higher? Yeah, but we're closer than we thought we would be."
For Russ Stark, vice president of LEXECO, the company working on the Main Street Project, gasoline prices aren't as much of an issue as asphalt prices. He said asphalt oil has spiked 65 percent in the past three months, and that fuel is catching up.
Gasoline prices don't factor into the time element of the project.
"Because we're under contract with KDOT, we don't have the liberty to stop until they go down," he said.