Freshmen hit the track running in 2007
Wichita — Those once-dominant Lansing Middle School eighth-grade runners wasted little time making an impact on the Lansing High track team as freshmen this season.
From clocking the fastest times in individual events, to being key cogs on relay teams, freshmen created quite a buzz for the Lions this spring.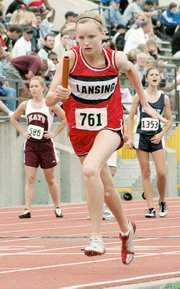 Seven of them capped their first season of high school track at the Class 5A state meet on May 25-26 at Wichita State University's Cessna Stadium. Although none brought home medals, their mere presence at the state meet has generated a whirlwind of optimism about the future of the LHS track program.
In fact, LHS coach Errol Logue is so excited about the group's potential that he wasn't content with just having them at state.
"We've got a good bunch of freshmen," he said. "It's nice to get here, but we can't stay where we're at. We've got to get better."
The freshmen state qualifiers - Brandon Craig (3,200-meter relay), Madison Brandt (1,600-meter relay), Carley Brown (100-meter hurdles), Lauren Jaqua (1,600-meter relay, 3,200-meter relay), Kate Meara (400 meters), Sarah Nielsen (3,200-meter relay) and Jennifer Totleben (400-meter relay) - entered the season with differing viewpoints about how they'd perform.
Nielsen, for instance, didn't expect to make much of a mark this year.
"I was definitely surprised that I made it to state," she said. "I didn't even thing about going to state. I just wanted to make varsity."
Others, such as Brandt, expected the class to make an impact quickly.
"Yeah," said Brandt, who teamed with Jaqua and Nielsen to break the middle school record in the 1,600-meter relay last year. "But it went better than I thought it was going to. I wasn't sure if we were going to make it here (to state), but we all did really good."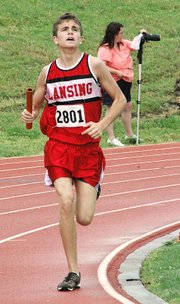 For the freshmen, the experience of running against such quality competition at state, and doing it in front of a crowd of more than 10,000 people, was a bit overwhelming.
"The track looked bigger," Brandt said.
Added Meara: "I was pretty scared. I saw the (program) and knew I wasn't doing the best, but I thought, 'At least I'm going to state as a freshman, so I'll try as hard as I can.'"
None of the freshmen ran their best times of the season in individual events at state, but Totleben's 400-meter relay team tied its fastest mark of the year. Nielsen also clocked a speedy split on her leg of the 3,200-meter relay, and Logue said she showed the least jitters of any of the freshmen.
"Of all the freshmen that showed up, she was the most impressive," he said. "She goes after people; she keeps after it. That's how you improve. She's a go-getter."
Jaqua and Nielsen turned in the highest finish of any LHS freshmen at state when their 3,200-meter relay team placed 13th in 10:42.66. Jaqua credited their relay teammates, seniors Lori Flippo and Kara Ritchey, with helping them become better competitors during the season, and she said the upperclassmen encouraged the freshmen to set their goals high.
That, she said, is exactly what the freshman class plans to do during the next three years.
"I think people should expect a lot," Jaqua said. "I think we're really talented and we'll be back here (at state) the next three years."
Logue carries the same expectation of them, which is why he couldn't stop repeating his demand for improvement.
"We've got a good freshman class," he said. "They're a good nucleus, but I can't emphasize enough that we've got to get better."