On guard … and entertaining
For the past three and a half years, Marty Wacker has served part time as a security guard at the Leavenworth County Justice Center and as a constant source of entertainment for his co-workers and guests to the center alike.
The longtime Lansing resident is the first person you generally see and hear walking in the front doors of the center, which houses the county Sheriff's Department, the Leavenworth Police Department, the district court, the Leavenworth Municipal Court, the county Attorney's Office, probation offices and the county jail.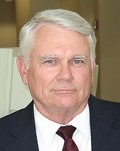 "I get to meet numerous people good and bad," Wacker said as his favorite part of the job. "And it gives me a better understanding of the court systems and how they operate.
"We X-ray any containers, purses and boxes for contraband, and we have a person go through a metal detector.
"We don't find too many guns or knives, but the thing is, we're a diversion. People know they're going to get checked when they come in here."
Wacker previously worked at the Veterans Affairs Medical Center in Leavenworth, transporting people from various medical appointments.
He grew up in the county and was a student in the Leavenworth Catholic schools.
Away from his job, you might see Wacker cruising around town on his Harley-Davidson, although, admittedly, he's not a biker.
"The tongue-in-cheek definition of a 'biker' is a motorcyclist without a windshield," Wacker said. "'Motorcycle enthusiasts' have a windshield : That's me."
Wacker also enjoys keeping in close contact with his twin daughters Angela and Alison, one of whom serves as a police officer in Leawood.
NAME: Martin Wacker
OCCUPATION: Lobby Security, Leavenworth County Justice Center
FAMILY: Sue, wife; Angela, daughter; Alison, daughter
HOW LONG HAVE YOU LIVED IN LANSING AND WHAT BROUGHT YOU HERE? "Twenty-four years. The school district and neighborhoods. We found a house we liked."
WHAT'S YOUR FAVORITE THING ABOUT LANSING? "Driving down Main Street through the construction."
WHAT DO YOU DO FOR FUN? "I ride a Harley, and I fish."
WHAT MIGHT SURPRISE PEOPLE ABOUT YOU? "I have a lot of people ask for my help with their computer."
WHAT'S THE BEST ADVICE YOU'VE EVER RECEIVED? "My grandmother once told me a story : There's several people being interviewed for a job. The employer hired the only person interviewed that straightened out a rug so nobody would trip on it. ... I guess he was responsible enough to straighten that rug out without having to be told to do so."
WHAT CLUBS OR ORGANIZATIONS DO YOU BELONG TO? Knights of Columbus, the Kansas Patriot Guard riders