Relay for Life raises $60,000 for cancer fight
On a rain-soaked Abele's Field in Leavenworth, 400 men, women and children gathered to show their support for cancer victims, to honor those who have survived the disease and to remember those who have lost their battle.
Most would be there all night.
They were there for Leavenworth's 14th annual Relay for Life, a nationwide activity sponsored by the American Cancer Society, and they raised more than $60,000 for cancer research.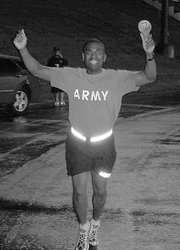 Wet feet, sore legs and sleep deprivation were no match for the determination of the many participants, including 80 cancer survivors, who ran, walked and jogged around the quarter-mile track some for a full 12 hours Friday night and Saturday morning.
Their struggle, in a lesser but significant way, symbolized the strength and determination that someone fighting cancer must possess.
"We're soaking wet, but we're having a ball," said Mark King, a Lansing resident whose family has been "racked with cancer."
King was a member of the 'Weary Walkers,' a team of 13 friends and family, including two of his stepnieces, his daughter and a friend of hers.
In an effort to keep the night lively and upbeat, King and teammate Pat Fletcher, the self-proclaimed "Queen of the Relay," dressed in drag to help raise money for the cause. They went to local restaurants, bars and bowling alleys in costume Friday night to solicit donations.
Fletcher even went to work at Galamba Metals Groups, a Kansas City, Mo.-based steel factory, where he "inspected cars dressed as a country girl" to increase awareness, he said Friday before handing race organizers a wad of bills he had collected that night.
"People, when they hear what you're doing, they're willing to give, and many of them can relate to the cause," King said. "What we're doing is a really fantastic thing."
"I've lost four family members to cancer over the last 11 years," Fletcher added. "I'll do anything I can to help."
The sheer amount of people that have been affected by cancer, which strikes over one million people each year, was evident in talking to just about anyone at the relay
"Everyone here has a connection (to cancer) in one way or another," said Tammie Jurgensen of Easton.
Lea Chapman, a staff sergeant at Fort Leavenworth, ran in memory of her father, who died from non-Hodgkin's lymphoma in December.
For her, the possibility of being able to save someone's life in the future was strong motivation to keep her circling the track.
"I just know how painful it was for our family," Chapman said. "It's extremely important for me to contribute in some way."
"I'm here so future generations don't have to go through what I had to go through," said event chair Wanda Doty, who is also a cancer survivor. "I'm here for my kids."
In March of 1995, Doty found a lump under her arm and was diagnosed with Hodgkin's disease, a cancer of the lymph nodes. Doty went though radiation therapy and was in remission for 10 years before being diagnosed again - this time with breast cancer.
Although she is still facing the disease, Doty has found the strength to lead the 14-member committee that organized this year's Relay for Life, one of five events of its kind that occurred throughout the Kansas City metropolitan area this past weekend.
The Leavenworth event kicked off at 6 p.m. Friday with a survivor reception and dinner featuring guest speaker Bryan Busby, chief meteorologist with KMBC 9 news.
"It was his first Relay for Life," said Caitlin Faddis, a community manager for the American Cancer Society. "He was very impressed. We were very grateful for him."
At 8 p.m. Friday, the relay kicked off with all survivors taking the first lap. Balloons were released to signify the freedom from cancer. Luminaria inscribed with the names of participants' friends and family members were lit surrounding the track to honor those plagued by cancer. A silent auction took place until midnight to raise additional money for each of the 27 teams that participated.
At 8 a.m. Saturday, the final lap was completed and an awards ceremony was conducted.
The award for the most money raised per person went to Team Pizza Hut/St. John's, which raised nearly $518 per person.
The team spirit award went to the "friends and family" team, and the most laps completed award was presented to members of the Munson Army Health Center, who made 242 trips around the track for more than 60 miles. That's roughly the distance to run from Lansing to Lawrence and back all in one night.
According to Lt. Col. Kelley Murray, a member of the Army hospital team, fundraising has been almost a yearlong process. Team members conducted a car wash, bake sale, a chili cook-off and accepted general donations to raise money for the event.
And a little "healthy competition" kept the Army hospital workers motivated at the actual relay. Their goal as always was "to beat the MP (military police) team," Murray said.
Timothy Allen, a 1st sergeant with the Munson Army Health Center, said, "I'm here to save lives - here and with Army soldiers in Iraq. It's to save lives. My motto - in 18 years of service - for this and for the hospital: constant dedicated care."