Ask a Nurse program available to seniors
A registered nurse who is new to Lansing is teaming up with the Council on Aging in a monthly program for Leavenworth County senior citizens.
The "Ask a Nurse" program allows seniors to come by the Council on Aging, 109A Delaware St., Leavenworth, once a month and receive general medical advice.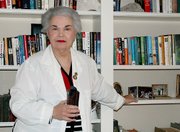 Patty Willmeth, Council on Aging staff member and coordinator, and Natalie Rotkoff, a certified registered nurse who specializes in geriatric nursing, created the program in April.
Willmeth hopes that "Ask a Nurse" will remain permanent.
"There has been a real interest because we have announced it at other programs that we have," Willmeth said.
Rotkoff moved from New York to Lansing four months ago and explained why she volunteered. "I am certified in geriatric nursing by the American Nurses Association, otherwise I would not presume to dispense information," Rotkoff said.
"She was very involved with senior care in New York," Willmeth said.
The first "Ask a Nurse" was slow, but successful.
"On the first day, I had a gentleman and a lady. I was able to give them each as much time as they needed in a private environment, and I think I made a difference." Rotkoff said.
"Ask a Nurse" is not a diagnostic session, but a time where seniors can come in and ask general health questions.
"Once a month we have a blood pressure check. That has always been very successful, so we thought that we would offer this once a month to see how it would go and to see what participation we had," Willmeth said.
"Ask a Nurse" allows seniors to ask specific questions about what their providers say to them. Many times, Rotkoff said, seniors misunderstand, don't hear or don't understand the reasons they are prescribed a certain medicine or diagnosed in a certain way.
Rotkoff worked individually with seniors and their families for many years. Her last full-time job was as an assistant director of a nursing home, where she worked with the patients and their children closely.
Rotkoff is involved with other organizations in the community as well. She works as a docent at the Carroll Mansion, participates in activities that are similar to the Council on Aging's activities at the Heritage Center, and works with an archivist at the Leavenworth Public Library with identifying slides for future use.
"We are working on negatives from the 1950s," Rotkoff said.
Rotkoff said she wanted to stress that the services she provides through the Council on Aging are not the same as medical practice.
"What I want very much to emphasize is that I am not practicing medicine. That is very crucial that it is understood. I am not prescribing and I am not changing treatment. None of those things would be in the realm of nursing," Rotkoff said.
Rotkoff is at the Council on Aging from 1 until 2 p.m. every third Monday of the month. However, if someone needs to talk and it is past 2 p.m., she will wait for as long as it takes.
"My time is available," Rotkoff said.
To get more information on the "Ask a Nurse" program or any other event that will be taking place at the Council on Aging center, contact Willmeth at (913) 684-0777.