LHS

graduate finds niche as debater
Rohan picks up individual honors, helps
KCKCC

win national title
From a young age Chris Rohan liked to argue. He could be strong-willed and stubborn at times, and, with two sisters in the picture, more fuel was added to the fire.
But all that practice growing up has only allowed him to turn those argumentative skills into a successful debate career.
Rohan, a 2006 graduate of Lansing High, has made his mark on the Kansas City Kansas Community College debate team and has helped it to win its fourth straight national community college championship.
A freshman at KCKCC, Rohan has won several individual awards in addition to many team awards.
During the Phi Ro Pi national championship in April in Houston, Rohan won the Lynch-Grossman Award. This award is voted on by fellow debaters as someone who exemplifies fellowship and competition.
At that same debate, he and his debate partner, Andy Montee, St. Joseph, Mo., won the Beel-Scroggins Award, which is the same award voted on by fellow debaters but won as a team.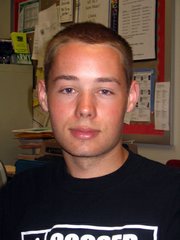 Darren Elliott, Rohan's debate coach at KCKCC, said this was the first time anyone from the school had won both awards in the same year.
Rohan was named an academic All-American at the Cross Examination Debate Association's National Tournament. This award goes to the top 30 debaters in the country from all two- and four-year universities. The award is based on success in debate and academics.
"One thing that's really impressive is his ability to keep up his competition and research and debate while at the same time be as successful academically as he is," Elliott said. "Says a lot about his character to get things done."
Besides Rohan's dedication to the debate team, he manages to maintain a 4.0 grade-point average while working full-time at the T-Rex restaurant in the Village West Shopping Center.
Rohan's interest in debate began during his sophomore year at Lansing High. His freshman English teacher was also the debate coach and pushed him to try out for the team.
From that point on he was hooked. Rohan said what he likes most about debate is the energy and competition level that goes along with each tournament. He said it was a lot of fun to think critically about important issues and to discover and learn more about who he is and about his own beliefs in the process.
"Debate isn't really what it seems like," Rohan said. "It's not two politicians talking to each other with no solution. It gives you a chance to be creative."
He also said debate teaches him a lot about teamwork and communication.
Rohan and his debate partner, Montee, seemed to click right off the bat.
Montee admits that his and Rohan's personalities were different but said the old saying "opposites attract" must be true.
"People call us the odd couple," Montee said. "He's really precise and organized and I'm more carefree. It ended up working out pretty well."
Montee added that what makes a successful debate team is being aware of your partner and what points he would make during the debate so you can plan your own arguments to enhance what he says. He said being able to communicate with each other was key to his and Rohan's success.
In addition to the success and awards in debate, Rohan has had the opportunity to learn several skills that will help later in life.
"It teaches so many different skills in terms of research and teamwork and it exposes you to so many different topics that you have a much broader knowledge of the world than you would normally have," Elliott said.
Rohan plans to return to KCKCC as a sophomore next year but wants to move on to a four-year university after that. While he said he's not sure of a major yet, he knows his experience on the debate team will come into good use.
He said that debate has given him the confidence to raise questions and a different outlook on the world.
"Really there are no rules," he said. "Everything is debatable."