Rogers hopes to fly high at
BU
Erin Rogers was no stranger to high-flying performances when Lansing High track coach Errol Logue convinced her to try pole vaulting three years ago.
A competitive cheerleader, the 2007 LHS graduate was most comfortable when tumbling and twirling through the air. That was during football and basketball games and cheerleading competitions, however. But at a track meet?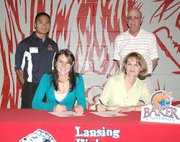 "Coach Logue said, 'I know you're a cheerleader and you tumble, and tumblers are normally really good pole vaulters. Why don't you try it?'" Rogers said. "At first I didn't really take it that seriously, but after I started it I really developed a love for it."
That love led Rogers to turn down a scholarship to cheer in college. Instead, she accepted a track scholarship to pole vault at Baker University.
"I actually made the (cheerleading) squad at Avila," Rogers said. "But pole vaulting just took my heart."
Rogers' relationship with cheerleading began when she was six years old, and she quickly excelled in the sport. Upon moving to Lansing from Washington, D.C., she began cheering locally. Last year she joined the squad at G-Force Athletics All-Star Cheerleading with LHS classmate Sica Bradford and 2006 LHS senior Amber Walden. The Lawrence-based club helped Rogers thrive as a cheerleader, and she helped G-Force claim top honors in four categories at the Longhorn Champions Cup in Wichita Falls, Texas.
Meanwhile, Rogers' three-year relationship with pole vaulting was beginning to occupy more of her time and interest. She'd qualified for state as a sophomore and junior while clearing as high as nine feet. Last year she finished eighth at the Class 5A state meet, one spot shy of a medal.
This season her best vault was 8-foot-6, but she made her third straight trip to state and placed 10th.
With so many years invested in cheerleading, Rogers said she was nearing her peak development while she said she had plenty of room for improvement in the pole vault. That was a major part of her decision-making process.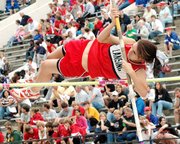 "In the end I was almost burned out on cheerleading," she said. "I don't want to say I was as good as I could get, because there's still room for improvement, but I just wanted to pursue pole vaulting. It was something I'd never thought about, but once I started doing it and ended up being good at it, I decided I wanted to try it for a while."
Baker pole vaulting coach Mackie Valentin said Rogers' cheerleading background makes her a perfect fit to be a college vaulter.
"Her body control and her build are perfect," he said. "As far as the type of athlete I look for with pole vault, she has all the parts."
Valentin noted that one of his top vaulters currently on the roster, sophomore Chelsey Ornburn, helped Lawrence High School win a gymnastics state championship during her senior year.
"She's ranked 14th in the nation in pole vault," Valentin added. "And she's a lot smaller and a lot slower than Erin is."
Valentin said he considers Rogers "a blank slate" because she has so little vaulting experience, and he said it's reasonable to believe Rogers will be clearing 11 feet in the pole vault by the end of her freshman season at Baker as long as she can handle the mental and physical preparation.
"That's why the pole vault is so unique," he said. "There's the pole, there's you and there's the runway. And you go get it. Whoever can put it together is the best vaulter, and I think she can do it."
Rogers believes so, too.
"He's got me expecting so much," she said. "He's like 'You don't even have the pole that you need, and you don't even have the standard that you need.' I'm really excited about it."