Smokin' aces
Junior Team Tennis receives warm reception from players in Leavenworth County
Summertime tennis is no longer just a recreational activity in Lansing.
Thanks to the creation of the Leavenworth County Junior Team Tennis squad this summer, the sport has vaulted its way to the competitive circuit.
It's a move that Rachel Elkins, Junior Team Tennis coach and head coach at Lansing High, said would benefit the sport as a whole and pay some serious dividends for the high school program in the next few years.
"They play a lot of sports here in Lansing with a small population, and across the board we're competitive," Elkins said. "I think that Junior Team Tennis will start isolating a few athletes in the future who want to focus specifically on tennis, and maybe a few years down the road we're going to find that we have some players that will be highly competitive on the regional and state level."
Twenty-three high school athletes from Lansing, Leavenworth and Immaculata are on the roster this summer. Elkins said that is a good starting point, and she noted that she and assistant coach Linda Long already have seen their players make progress.
The greatest benefit of Junior Team Tennis is that it exposes players to a higher level of competition multiple times per week. For example, Lansing has numerous matchups with clubs from Topeka, as well as from the greater Kansas City area.
For two-year LHS varsity player Ezra Carpenter, the improved competition makes the summer commitment worthwhile.
"The majority of players that do this in the summer are state qualifiers, so it helps us with the competitiveness," he said. "It gives us a taste of what it's like to play the people that go to state, and you have to really be focused for every match because you know it's going to be a high-quality opponent."
Others, such as LHS junior-to-be Metin DePaolis, see Junior Team Tennis as an opportunity to help solidify a varsity spot next year.
"We get more practice, and we can practice longer (in the summer)," he said. "Plus, we won't forget what we learned in the past season."
Briana Hall played varsity tennis at LHS as a freshman last year. She said she hoped playing Junior Team Tennis in the summer would pay off during the fall.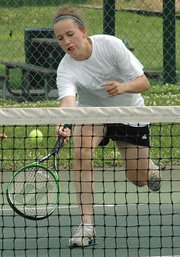 "I'll be more prepared for my tennis season for high school," she said. "Now I will be prepared for other teams that are really good."
Elkins said Junior Team Tennis should benefit the high school athletes that are participating, but she said it also should benefit the community. After all, the high school program is only the first step.
Elkins said she'd like to see the program extend to the under-14 and under-12 divisions in the future.
"We don't have the numbers to field a team at that age level : yet," she said. "But in a few years I think we will."