Classmates, friends score one for Sean
The fields were packed, the games were intense and the competitors were spirited on Saturday at the second annual Sean Ryan Memorial Football Classic at Lansing Middle School.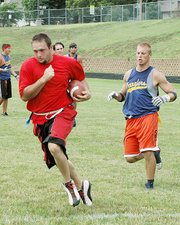 And in the end, two of Ryan's buddies - 2003 Lansing High graduates Mark Waller and Jerry Duxbury - guided their team, the Wranglers, to a first-place finish in the flag football tournament that honors their friend.
Ryan died on April 8, 2006, in an automobile accident on Kansas Highway 10 near Eudora. The tournament was created to keep Ryan's spirit alive, as well as to raise money to fund the Sean Ryan Memorial Scholarship. The $1,000 scholarship is presented to a graduating senior from the LHS football team each year.
Tournament organizer Kyle Deere said this year's tournament was a success in many ways.
"We had 100-plus players," he said. "We raised $4,200, which was a couple hundred dollars more than last year.
"And the weather was much better. It was hot : but not as hot."
Last year's tournament was played in late July, and the weather was scorching. Deere said moving the event forward one month allowed for more comfortable playing conditions.
"We're going to keep it on the third Saturday in June from now on," he said.
Between last year's $4,000 collection and this year's draw, the scholarship already has a solid base.
Deere said small adjustments would be made in the future, but he doesn't foresee any major changes.
"Bigger isn't always better when things get so big that it loses that special feeling," he said. "I really like how it is right now. I'd like to see 14, 15 or 16 teams and keep it at that, but we don't want to lose the special part of it about why we're there - and that's to remember Sean."