Children these days know plenty about Xboxes and iPods, but even in Kansas they know little about life on the farm - at least according to Joan Payne and Lyn Spring.
The two are coordinators with the Kansas Farm Bureau in Leavenworth and Wyandotte counties, respectively, and last week they arranged "Farm Day Camp" for 43 children from northeast Kansas.
Photo Gallery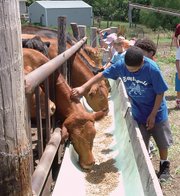 Farm Day Camp
"There's a lot of agriculture in this area, but not a lot of kids know a lot about it," Spring explained of Thursday's event.
To remedy the situation, Farm Day Camp began at the Agricultural Hall of Fame in Bonner Springs with presentations for the children on farm safety and living history followed by a mock farm animal auction and farm chores for the children to do.
When afternoon came, the children were loaded on a bus for a tour of the fish farm of Jeff Meyers near Basehor. After surveying his operation, the children were taken to just south of Lansing and the cattle farm of Chris Campbell.
The Farm Day Camp is in its ninth year, but this marked the first year campers ventured outside the Ag Hall of Fame and onto real farms.
"As far as education-wise, the kids probably learned more from actually going to the farms," Payne said.